Summer is nearer Spring is on, be ready to take some time off from work for family and friends to enjoy an all-inclusive vacation. There are tons of budget-friendly all-inclusive resorts that will provide you with everything you need to have a comfortable and relaxing vacation. There are many restful beachside resorts where you can lounge, tan and swim. You can travel to a desert region-based resort or settle at a cosy ranch. 
Wherever your ideal vacation lands, there is an affordable all-inclusive resort close by. Staying at an all-inclusive resort is a smart way to travel with family, friends or just a significant other. If you want to plan your next trip around one, we put together a list of the 47 best all-inclusive resorts below.
Here at upvey.com, we're all about sharing products we love with our audience.
47 Best All-inclusive Resorts
1. The Oberoi Vanyavilas Wildlife Resort, Ranthambhore – Luxury Resort in Rajasthan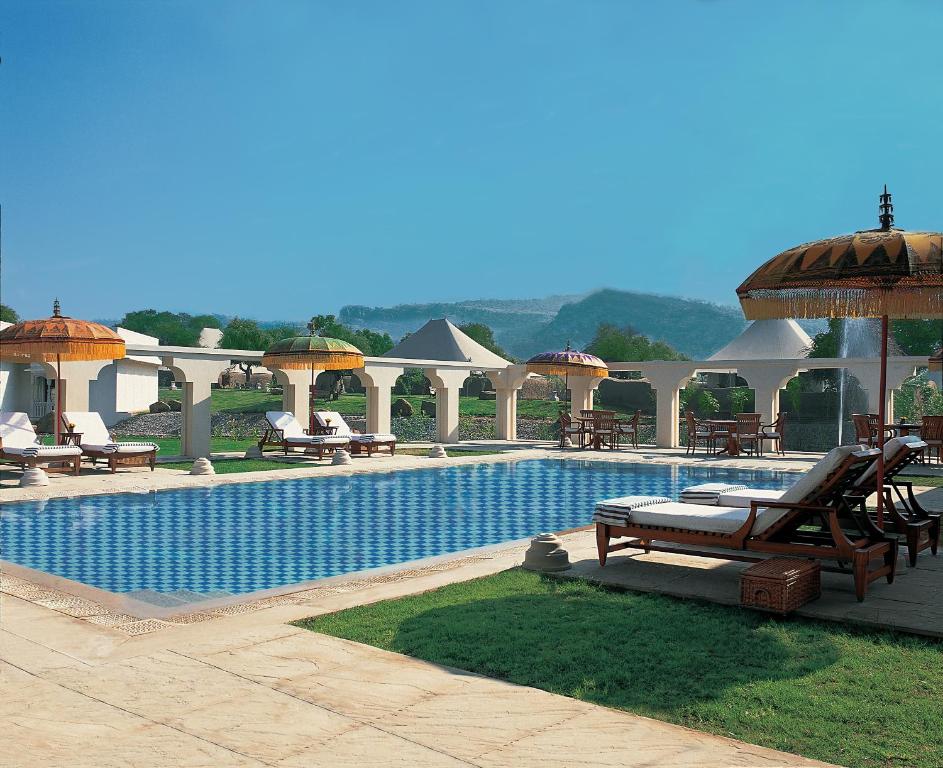 The Oberoi Vanyavilas resort is located in the vicinity of the Ranthambhore National Park in Rajasthan. It is a luxury resort in the middle of the jungle.
This resort is located at the border of the Ranthambhore Tiger Reserve. It is located 180 km from Jaipur and is filled with forests, parks and wildlife. Cherish your best memories and relax with your partner and get the best experience over here.
Primary Facilities at Oberoi Vanyavilas Wildlife Resort
The resort has well-furnished AC tents spread over a huge geographical area that expresses the regal living style of the Maharajas. This resort also has areas for sunbathing, spacious rooms, private gardens, and showers and baths.
Charges Per Night: Starts from Rs. 60,000 for 2 adults
Rated by TripAdvisor: 5/5
2. Evolve Back – Best Place to Stay in Coorg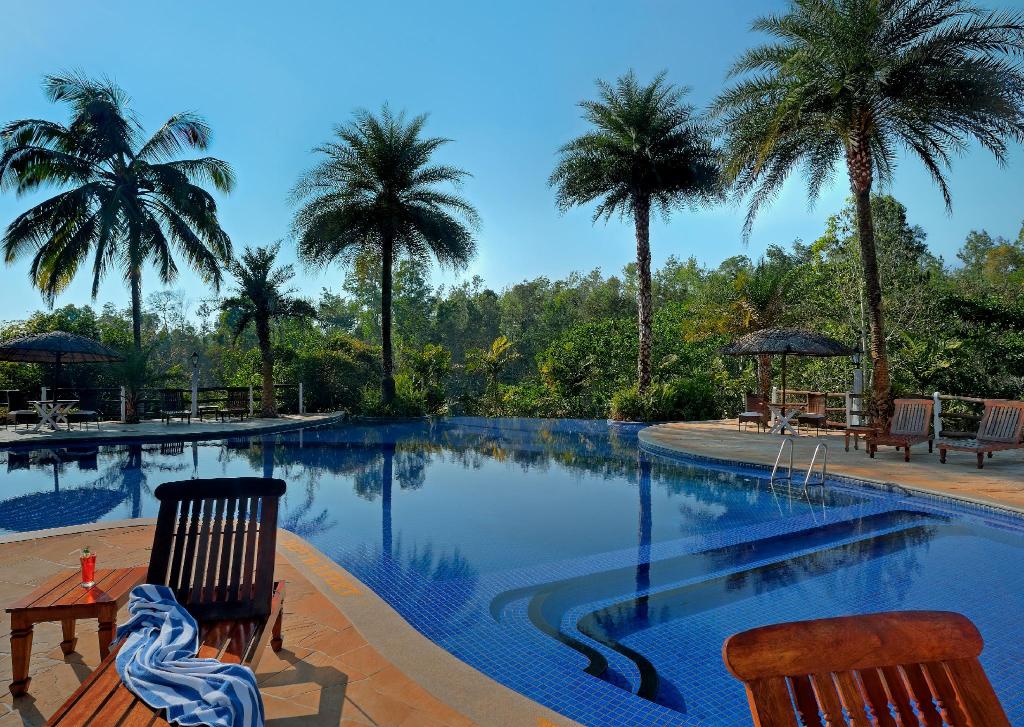 Evolve Back is a luxury resort located in Coorg. Karnataka was earlier called Orange County. The resort is located in the middle of Coorg.
Primary Facilities at Evolve Back Resort
The 300-acre estate has cottages, a pool, a luxury restaurant, a bar, and a hunter's lounge. Coorg can be reached from Mysore (118 Km) and Bangalore (255 Km) by road. The rooms can be booked online through their website. When you are exploring places of Coorg, I would recommend that visit this resort once.
You can explore the region during your stay. The gorgeous countryside, plantations, the Madikeri Fort and market and Tibetan Settlements can be explored in the region.
Charges Per Night: Starts from Rs. 28,000 for 2 adults
Rated by TripAdvisor: 5/5
3. Heritage Village Resort & Spa – One of the Best Beach Resorts in Goa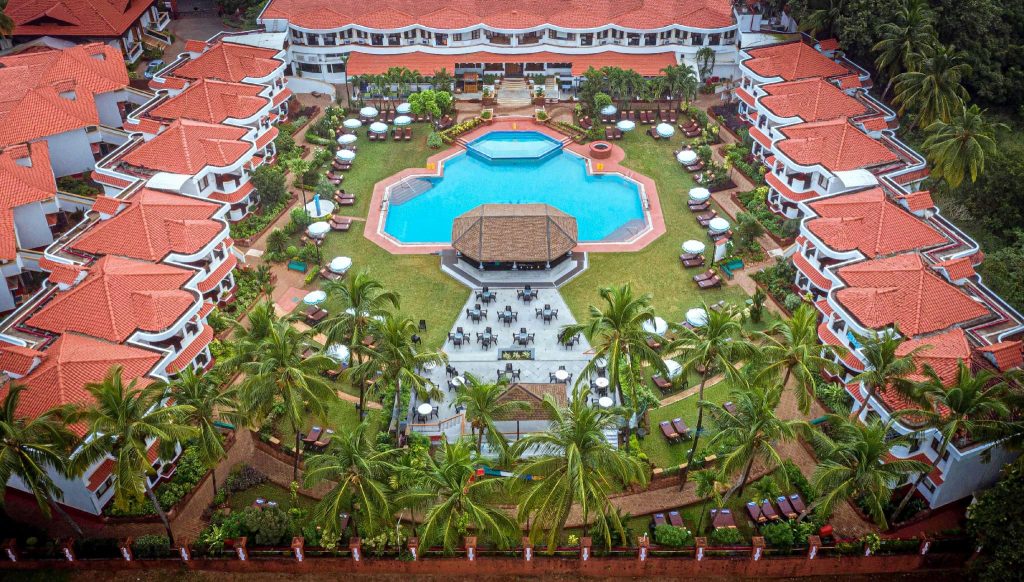 Heritage Village Resort & Spa is a premium resort in Goa, located just minutes from Dabolim Airport. It is a traditional village resort located on Arossim Beach having some amazing activities to do in the resort.
Primary Facilities at Heritage Village Resort & Spa
It has luxurious rooms, with a sitting area and private gardens. Also, this heritage village resort is one of the best beach resorts in India. The onsite restaurant offers the local cuisine of Goa. Free self-parking and easy access to all the Goa Beaches are added advantages.
Heritage Village Resort & Spa has easy access to the Dabolim Airport and the Madgaon Station. Also, this resort holds a great position in the list of Best resorts in Goa.
Charges Per Night: Starts from Rs. 5040 for 2 adults
Rated by TripAdvisor: 4.5/5
4. Arayal Luxury Resort – Best Resort for Honeymooners in Wayanad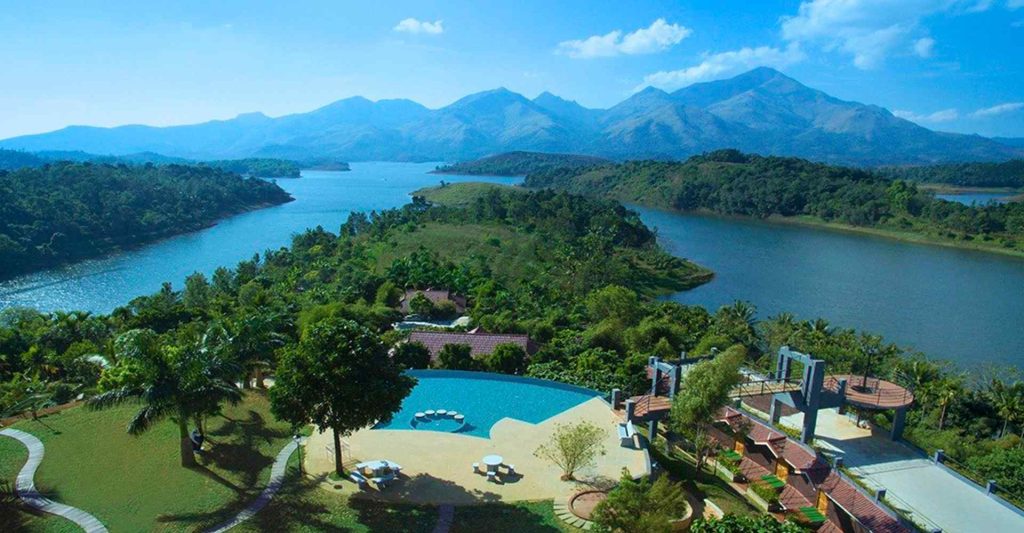 Wayanad is a great place with natural beauty. If you find a great resort then you can enjoy a great time in this beautiful district of Kerala. The resort is located overlooking the Banasura Mountains in Wayanad. It gives the best look over the mountains.
Primary Facilities at Arayal Luxury Resort
The Luxury Resorts offer many activities with facilities like an infinity pool and spa. It is ideal for honeymooners. Many indoor and outdoor games are offered in the resort. The cottages are located 80 km from Calicut Airport and 135 km from Mysore Airport.
You can book rooms online. You can enjoy trekking and visiting natural spots around Wayanad. Just don't think too much and reserve your room to get an amazing holiday experience at one of the best resorts in Kerala.
Charges Per Night: Starts from Rs. 7920/- for 2 adults
Rated by TripAdvisor: 5/5
5. Forest Canopy – One of The Top Luxury Resorts in Thekkady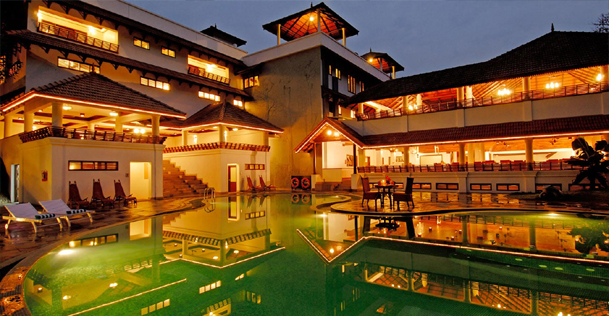 The luxury resort is located in the Idukki district and is a must option while looking for resorts. The resort is located near Chalimada junction in Thekkady. The place offers sublime views and is a great option if you want a peaceful holiday in midst of nature.
Primary Facilities at Forest Canopy Resort
It has private steam and sauna rooms with great balcony views. The rooms can be booked online or upon arrival. Idukki is about 100 km from Cochin. The main activities that can be enjoyed are boating at Periyar Lake, visiting Periyar Wildlife Sanctuary, trekking, rafting, and spice tour in the region.
Charges Per Night: Starting from Rs. 5749/- for 2 adults
Rated by TripAdvisor: 5/5
6. Corbett The Baagh Spa & Resort- Uttrakhand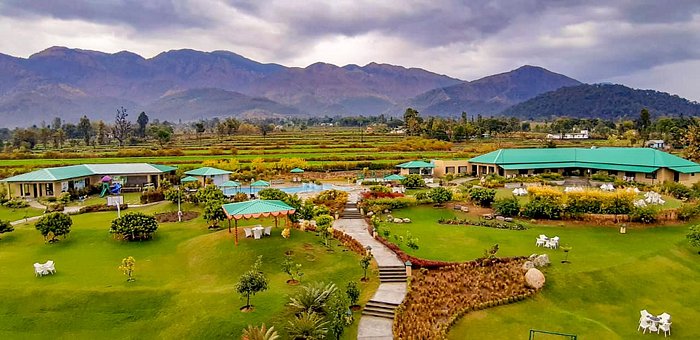 This wildlife resort is located in the middle of the Patriot village of Uttarakhand near Corbett National Park. It is a great place to relax with elegant scenic views. And don't forget to explore various places in Uttrakhand.
Primary Facilities at Corbett The Baagh Spa & Resort
The place is a great abode to enjoy the luxury spa and Safari in the Corbett National Park. The booking can be done online and offline as well. The resort can be reached from the nearest railway station which is Ram Nagar (12 Km from the resort).
Charges Per Night: Starts from 10331 Rs. for 2 adults
Rated by TripAdvisor: 5/5
7. Hathi Mauja- Among The Best Resorts in Jaipur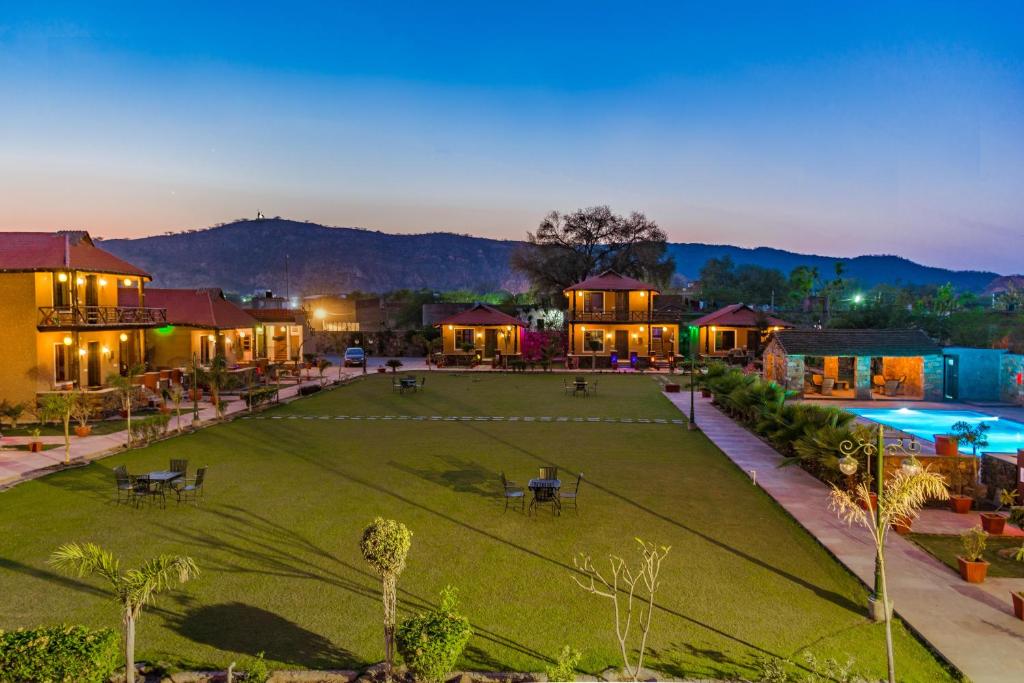 This luxury resort is a great place to enjoy the culture of Jaipur City. It has the best natural ambience and open-air space that smells of a desert city.
Primary Facilities at Hathi Mauja Resort
The specialities of the resort include great views of the city, elephant rides, and exploring the food and culture of Rajasthan and the Thar region. The resort is surrounded by mountain ranges and has contemporary interiors. The bookings can be done by checking. You can reach here by roadway from Jaipur city.
Charges Per Night: Start from Rs. 3449/- for 2 adults
Rated by TripAdvisor: 5/5
8. The Fog Resort & Spa – Chithirapuram, Munnar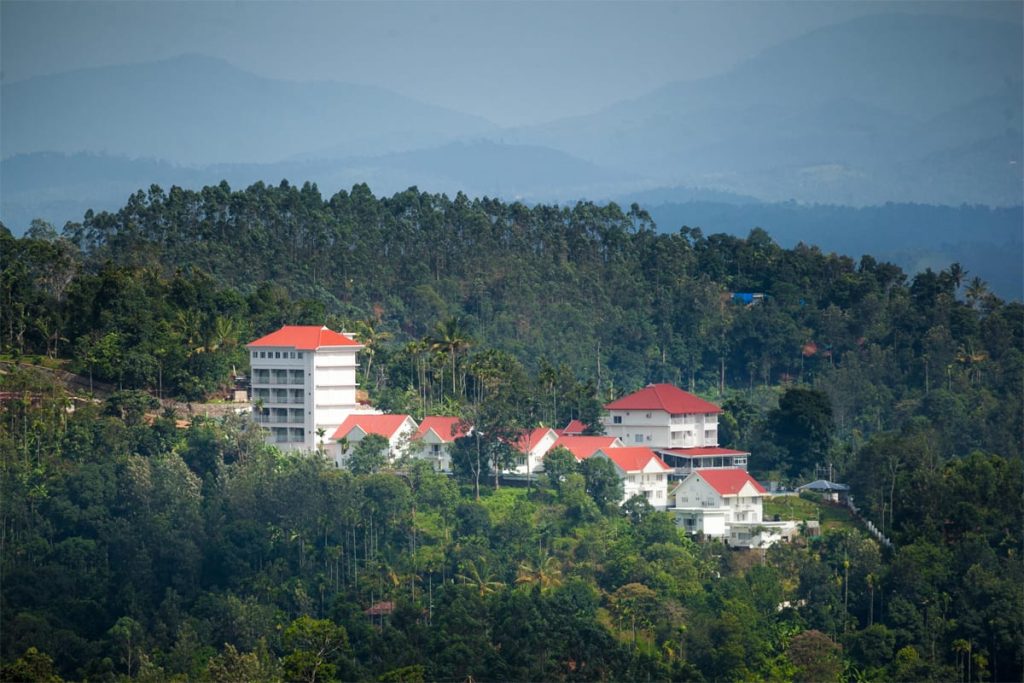 The Fog resort truly justifies its name as it is located in the beautiful mountainous locales of Chithirapuram, Munnar. Munnar is only 110 Km away from Cochin Airport. The place gives a dreamy view of the scenic flora and mountains.
Primary Facilities at Fog Resort & Spa
It has the best amenities to offer like luxury rooms, swimming pools, kid's pools, foosball tables, chess, carom, table tennis facilities and camping sites. You can book your room by call or online. Do enjoy the activities like traditional Kerala experiences, tea garden visits, trekking, bicycle rides, spice plant visits and bird watching. These are some amazing places to visit in Munnar
Charges Per Night: Starts from Rs. 7500/- for 2 adults
Rated by TripAdvisor: 5/5
9. The Oberoi Udaivilas, Udaipur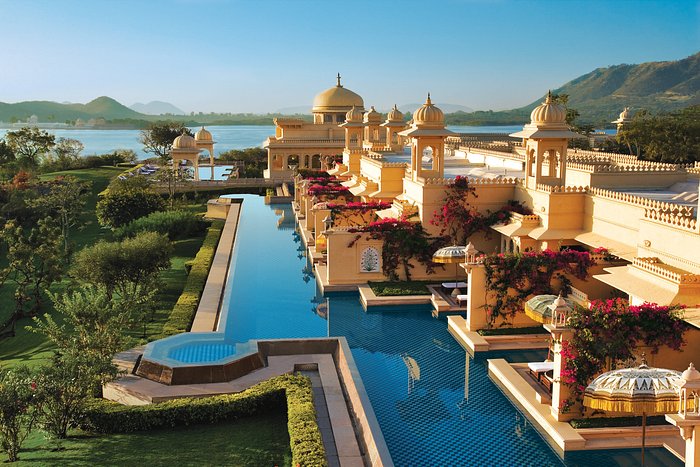 The Oberoi Udaivilas resort is an excellent example of luxury cleanliness & hygiene and warm hospitality. The resort showcases the iconic heritage and culture of the Mewar region of Rajasthan. The amazing Landscape and backyard gardens and shady courtyards, decorative fountains and reflection pools make it a favourite spot for travellers.
Primary Facilities at Oberoi Udaivilas
The Oberoi Udaivilas, Udaipur also offers best-in-class restaurants area serving signature cuisine, and well-organized accommodations which give you a pleasant experience on your well-being for daily yoga and personally curated spa therapies. The Grand architecture is fully loaded with world-class facilities which force you to come here again and again.
Charges per night: 2 adults 28000 per night
Rated by TripAdvisor: 5/5
10. The Leela Goa, Cavelossim
The Leela Goa Cavelossim is one of the popular choices among travellers. The hotel offers a wide -range of amenities and facilities with perks to ensure you have a great time. The rooms are spacious, airy and elegantly decorated to uplift your mood.
Primary Facilities at The Leela Goa
It has amazing interiors where guests may enjoy Ayurvedic massage and yoga sessions at the spa. Additionally, the beach location, which is also next to a river, makes it an ideal spot for those looking for an amazing place for a holiday.
Charges per night: 2 adults 18000 per night
Rated by TripAdvisor: 4.5/5
11. Wildflower Hall, An Oberoi Resort, Shimla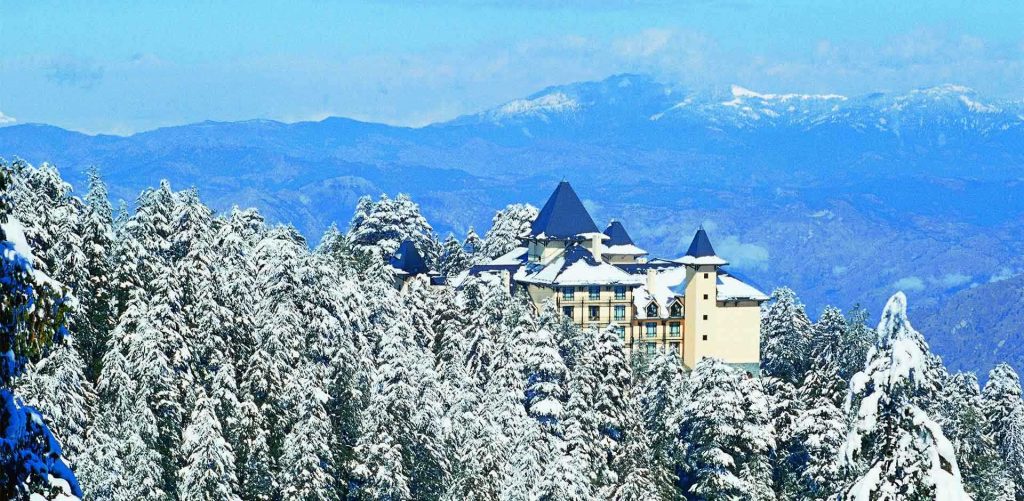 Oberoi Wildflower Hall is a luxury 5-star resort located in Shimla. The resort offers a splendid view of the Himalayas. Oberoi is one of the best resorts where guests can enjoy their family and kids and do lots of recreational activities.
Primary Facilities at Wildflower Hall
All rooms are loaded with a variety of deluxe facilities and have mountain views. The resort treats its guests with a variety of deluxe facilities, such as a limousine service an indoor heated swimming pool and a luxurious spa for relaxation.
Charges per night: 2 adults 18000 per night
Rated by TripAdvisor: 5/5
12. The Lalit Resort & Spa Bekal, Kerala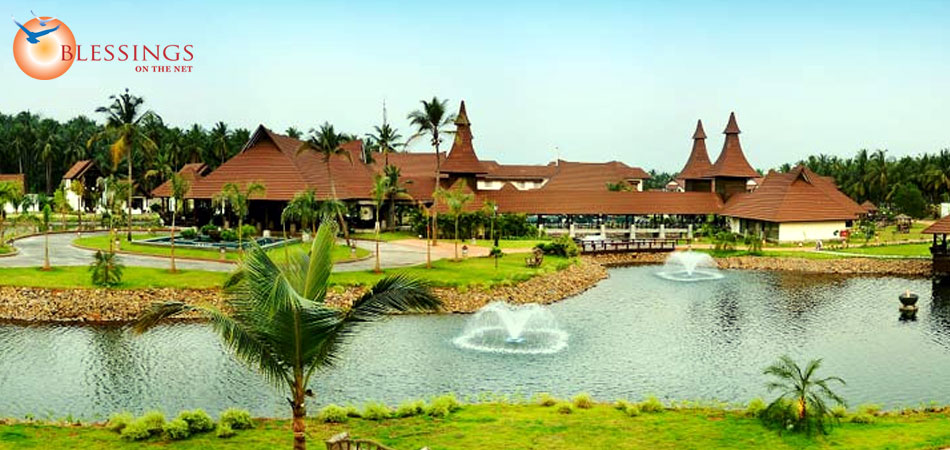 This modern-day resort is Located near the Arabian Sea which can be rightfully described as a heavenly escape of luxury and tranquillity.
Primary Facilities at Lalit Resort
The LaLiT Resort & Spa Bekal Kerala is a miraculous resort enclosed by the river Nombili and has an internal lagoon. It is a wonderful resort with all modern amenities, beautifully landscaped gardens, a private lagoon, and touched by perfect sandy beaches. It is an ideal location for a magnificent wedding, the resort is blessed by a serene ambience and traditional, mesmerizing surroundings.
Charges per night: starts from Rs 11000 for 2 adults
Rated by TripAdvisor: 4.5/5
So these are some best resorts in India now next time you plan a visit to out-of-India spots listed below:  
13. Dunton Hot Springs Lodge, Colorado
The Dunton Hot Springs Lodge is located in Dolores, Colorado, which has often been described as a "perfectly restored ghost town." They have an all-inclusive package option with food, drinks and alcohol. Plus, there are a wide variety of cabin and lodging options to choose from. While visiting Dunton, you can enjoy their full-service spa, fine dining and on-site activities. Depending on when you visit, you can enjoy horseback riding and rock climbing or sledging and skiing. 
14. Twin Farms, Vermont
Twin Farms is known as Vermont's one and only luxury, five-star resort experience. But, you know what they say about quality over quantity! This all-inclusive resort is nestled away in 300 acres of the Vermont countryside and you will get lost in this fairytale-like atmosphere. You can stay in a cottage, farmhouse, lodge or one of their historical rooms. With tons of activities to choose from, like axe throwing, bee tours, kayaking and more–there's something for everybody here. 
15. Sanctuary Cap Cana, Dominican Republic
Sanctuary Cap Cana is one of the best all-inclusive resorts you can choose from! It's just a 15-minute drive to the nearest airport and the resort lies along a gorgeous stretch of a sandy white beach in Punta Cana. Swim in their huge pools, enjoy evening entertainment, and explore the surrounding Sanctuary Town! There are also tons of activities to choose from.
16. Little Palm Island Resort & Spa, Florida
If you're more of a beachgoer and an oceanside vacation sounds like the best option, look no further than Little Palm Island Resort & Spa in Florida. It's an adults-only all-inclusive resort on a private island lined with thatched-roof bungalows. You arrive at Little Palm Island by boat, and from there they encourage you to be present. No phones, no TVs, no distractions. They offer an indoor and outdoor spa, serving world-class cuisine, and are immersed in natural beauty. 
17. Flathead Lake Lodge, Montana
Flathead Lake Lodge is an all-inclusive resort residing on a dude ranch in Montana. The resort has been rated as one of the best family vacation spots in America and is named a top guest ranch. Their all-inclusive package features meals, beverages, alcohol, lodging and all of the recreational activities. Make sure to check out their complete horse program and water sports.
18. Canyon Ranch Lenox, Massachusetts
Canyon Ranch is a health and wellness-centred luxury resort chain that you may have heard of before. The Canyon Ranch Lenox in Massachusetts is centred around a beautiful mansion that was constructed in the late 1800s. The cost of your stay is also entirely reliant on the itinerary you choose. Meals are covered, but you have the ability to work with personal trainers, mental health specialists, and life coaches during your stay. 
19. Moon Palace Jamaica, Jamaica
If you're long overdue on a family vacation, Moon Palace Jamaica is calling your name. Located in the city of Ocho Rios- also home to Dunn's River Falls- Moon Palace has over 700 rooming accommodations with oceanfront and partial oceanfront views. With views like those, you'll always be happy to wake up! Adults can check out their spa, which is the largest in Jamaica, while kids can surf on the FlowRider Double Wave Simulator.
20. The Landing Tahoe Resort & Spa, California
The Landing Tahoe Resort & Spa is one of the more affordable and luxurious resorts in Lake Tahoe. The views from the resort are stunning, no matter if it's snowy winter or sunny summertime. You can plan your wedding here, visit the spa for a couple's massage, and enjoy a bed and breakfast. 
21. Red Mountain Resort, Utah
If you're someone that loves hiking or trekking through red canyons and desert regions, you need to plan your stay at Red Mountain Resort in Utah. The resort is naturally blended into the surrounding desert landscape and cliffs, providing you with a once-in-a-lifetime stay experience. There are 82 rooms and 24 villas available at this health-focused resort, making it a small and intimate getaway. Red Mountain Resort offers over 50 fitness classes each week, a cardiovascular centre, wellness testing, nutritional guidance and more.
22. Miraval Arizona Resort, Arizona
Take one glance at Miraval Arizona Resort's website and you'll be ready to book a stay. Similar to Canyon Ranch, Miraval is another luxury resort chain with locations all around the United States. Miraval Arizona Resort sets itself apart from the rest, being located right at the foot of the Santa Catalina Mountains. Their core values are centred around mindfulness and balance, so you can be sure to fill your time with yoga classes, meditation practices and metaphysical exploration.
23. The Grand Wailea Maui, Hawaii
The Grand Wailea has the typical all-inclusive resort amenities, like high-class cuisine, spas, and beautiful pools to dip in. Something that sets them apart is their bespoke signature experiences, in which you can learn all about Hawaiian culture. They include hands-on workshops at a cultural centre and weekly tours with an expert Cultural Ambassador.
24. Robinson Maldives, Maldives
Sometimes, we need to go off the beaten path, and a flight to the Maldives that includes a trip to the Robinson Maldives may be just what the doctor ordered! Their accommodations feature state-of-the-art water bungalows which will literally allow you to wake up in paradise. Not only can you enjoy the beach every day, but you can snorkel in the coral reef, take a beachside mind & body class, and indulge in the finest cuisines.
25. Blackberry Farm, Tennessee
Blackberry Farm is tucked away in southeast Tennessee, about an hour away from the bustling city of Knoxville in the Great Smoky Mountains. There are 4,200 acres of mountain greenery magic to enjoy your stay on, featuring lodging, a brewery, a spa, a farm and more. Blackberry Farms' all-inclusive package will score you lodging, snacks and three meals each day. 
26. Bungalows Key Largo, Florida
Named one of the 13 best all-inclusive resorts in the United States by Travel + Leisure, Bungalows Key Largo is an adult-only getaway down in the Florida Keys. Their name comes from their waterfront bungalow lodges that visitors retreat in throughout their stay. Amenities at Bungalows Key Largo include a private beach, daily yoga classes, four different restaurants to choose from, two outdoor pools and jacuzzis, a full-service spa, and a state-of-the-art on-site fitness centre.
27. The Point Resort, New York
The Point Resort, located in upstate New York, is over a century old and its cabin lodging is equally historic as it is rustic. With an average 5-star rating on TripAdvisor, The Point is a private, adult-only all-inclusive resort on the very edge of a mountain lake. Visiting The Point is a treat in itself, but foodies will love visiting this place for the culinary experience alone. They have an Executive Chef and professional team that creatively prepares delicious meals for the guests.
28. Tanque Verde Ranch, Arizona
Tanque Verde Ranch is another dude ranch in Arizona that offers all-inclusive vacation experiences. Tanque Verde was named the #1 Top Resort in the Southwest in Conde Nast Traveler Readers' Choice Awards in 2021, if you've got your eyes on that desert vacation—look no further. It's just two hours south of Phoenix if you're keen to visit, and their all-inclusive package gives you three meals a day, horseback rides and lessons, outdoor recreation, access to a fitness centre, indoor and outdoor pools, plus entertainment. Not to mention, they offer supervised programs for those travelling with kids. 
29. Warwick Paradise Island, Bahamas
With so much to do in the Bahamas, you can get the best bang for your buck by booking an affordable all-inclusive resort, like Warwick Paradise Island. The resort's minimum age requirement is 16 years old, curating a very stress-free environment for guests. The gorgeous swimming pools are just steps away from the beach so that you can go back and forth with ease. 
30. Fair Hills Resort, Minnesota
Fair Hills Resort has been owned and operated by the same family since 1926. They've won countless awards for their 5-star resort experience which helps you take a step away from the everyday hustle and bustle. It's the ideal family-friendly environment with activities for folks of all ages, so get everyone ready to pack the car up! This affordable all-inclusive resort provides guests with three meals per day and supervised recreation activities, from golf to water skiing. 
31. Lake Austin Spa Resort, Texas
Typically, you may not think of Austin, Texas being the location of a relaxing all-inclusive resort, such as the Lake Austin Spa Resort. However, Texas is a large state, and Lake Austin is a good 30-minute drive away from downtown. There are only 40 units at this lakefront resort, so if privacy is what you're after—you will find it here. Lake Austin Spa Resort offers a wide array of all-inclusive packages to serve everyone's needs, like the Couples Retreat package.
32. Skytop Lodge, Pennsylvania
Pennsylvania: another seemingly unlikely spot for a relaxing all-inclusive resort getaway. The Skytop Lodge has nestled away in the Poconos, a mountainous region in the north. It's been around since 1928, providing an incomparable experience to each visitor that stays. There are a number of rooms to choose from, as well as an inn that was recently renovated. Skytop Lodge rests on over 5,000 acres of land, making it your family's playground on vacation. Ice skating in the winter, boat in the spring, paintball in the summer, and fish in the fall. 
33. andBeyond Sandibe Okavango Safari Lodge, Botswana
Not many may think of travelling to Botswana for their next relaxing vacation, but the andBeyond Sandibe Okavango Safari Lodge will do just that while also offering a very unique experience. It's located in the heart of the Okavango Delta, on vast, wildlife-rich land bordering the Moremi Game Reserve. You'll wake up what feels like being right next to the wildlife, in your lodge with rich views of their encounters. Not to mention, there are on-site safari vehicles and helicopter transfers.
34. Grand Hotel Mackinac Island, Michigan
Step into centuries past by staying at the Grand Hotel Mackinac Island in Michigan. This vintage all-inclusive resort has been welcoming guests since 1887, and they continue to integrate that old-world hospitality and charm today. With afternoon tea time and horse-drawn carriages casually riding around, you truly will feel like you've stepped into a time machine. No two guest rooms are alike, and if you ever want to venture out, there are about 70 more miles of Mackinac Island to explore.
35. Brooks Lake Lodge and Spa, Wyoming
Wyoming is a wondrous state that many people neglect in their travel efforts. However, Wyoming offers a lush and nature-driven vacation experience, and staying at the Brooks Lake Lodge and Spa will ensure that. With their all-inclusive package, you can choose to stay in either a log cabin or lodge room. Plus, you'll be served five-star dishes by master chefs and have the ability to enjoy all of the nature-focused activities that are done best in Wyoming's Rocky Mountains. 
36. Vista Verde Guest Ranch, Colorado 
Vista Verde Guest Ranch is another dude ranch with an affordable all-inclusive resort to retreat at. The unique feature of Vista Verde is that there are special times during each year when adult-only vacations are offered. Otherwise, it's perfect for both families and adults travelling solo. They offer tons of activities to choose from, making it more than just a riding ranch. Vista Verde is committed to not nickel-and-diming their guests by putting one set rate for their all-inclusive offers.
37. the Singular Patagonia, Chile
If you've got an eye for beauty and a heart ready for adventure, the Singular Patagonia in Chile is calling you. By staying here, you'll be offered the authentic Chilean Patagonia experience with horseback riding, walking tours, and expeditions to nearby glaciers. Whether you seek to immerse yourself in the rich culture and adventure around or relax in their comforting rooms, the Singular Patagonia is an ideal stay. 
38. Hana-Maui Resort, Hawaii
The road to Hana is a 64-mile stretch of scenic road that winds along Maui's northern coast, and along that stretch, you can find the Hana-Maui Resort. The all-inclusive resort directly overlooks the Pacific Ocean, with gorgeous views of lush palm tree groves and rolling fields. Hawaiian vacations are great for immersing yourself in nature, and the activities offered to ensure that happens: are horseback riding, biking, paddle boarding, hiking, making leis, and learning the ukulele. 
39. White Stallion Ranch, Arizona
"Be here, now" is the core quote that fuels the White Stallion Ranch- another dude ranch in Arizona offering cheap all-inclusive resort packages. They've won the TripAdvisor Travelers Choice Award for consecutive years in a row, from 2018 until 2021. White Stallion Ranch currently offers a special getaway package which includes lodging and breakfast, as well as one dude ranch activity per person, per night booked. 
40. Sandpiper Bay, Florida
Sandpiper Bay is another family-favourite, affordable all-inclusive resort located in Port St. Lucie, Florida. Not only will you get the experience of soaking in the bright Florida sun with the many pools and beach just steps away, but there are also multiple dining options, spas, kids' camps, sports lessons, and much more. Munch, anytime you want by hitting the buffet, or get your drink on at the open bar.
41. Four Seasons Tented Camp Golden Triangle, Thailand
The Golden Triangle is where the borders of Thailand, Laos, and Myanmar meet at the confluence of the Ruak and Mekong rivers. That's exactly where you'll find the Four Seasons Tented Camp in Thailand. This is definitely a great travel accommodation for those ready to find adventure! What other all-inclusive resort can you interact with rescued elephants through the jungle? Their all-inclusive packages cover the elephant encounters, plus meals, alcohol and one spa treatment per person.
42. Rocking Horse Ranch Resort, New York
Rocking Horse Ranch Resort has successfully branded itself as providing you with the best family vacation you'll ever have. That's because there are hundreds of activities to choose from for you and your whole family, all of which are included in your stay. Of course, there's horseback riding and evening entertainment, but how does an indoor water park and laser tag sound? All of that and more can be found at Rocking Horse Ranch Resort in New York.
43. Lizard Island Resort, Australia
If snorkelling the Great Barrier Reef in Australia is on your bucket list, it's about time you cross that item off the list. While you do that, make sure you stay at Lizard Island Resort in Australia. With just 40 luxurious suites in this resort that are part of a National Park, it makes for a very exclusive-feeling stay. You can enjoy private picnics, dive into the famous Cod Hole, and learn to snorkel. Plus, they offer special packages to accommodate exactly what you need for your stay.
44. High Hampton Resort, North Carolina
A group of passionate families own and operate the storybook-like High Hampton Resort in the Blue Ridge Mountains of North Carolina. One of the families included is the Beall Family, who also runs the aforementioned Blackberry Farm. The resort dates back to 1922 and both its architecture and surrounding landscape are rich with historic charm. High Hampton Resort gives you a wide variety of all-inclusive lodging options that come with meals and even green fees at the onsite golf course.
45. Lodge on Little St. Simons Island, Georgia
Looking for adventure? At the Lodge on Little St. Simons Island, nature is the luxury and there's a new experience waiting for you at every corner. Little St. Simons Island is a virtually untouched landscape in Georgia's Golden Isles, and visiting almost feels like entering a different world. Their all-inclusive package provides you with garden-to-table meals, immersive nature excursions, and access to all the exploration tools you need, like bicycles. 
46. Kokomo Private Island, Fiji
There's a reason that The Beach Boys made a whole song about Kokomo. O.K., they weren't really talking about the Kokomo Private Island in Fiji—but they may as well have been. How does having a whole private island to yourself sound? This resort serves as a very romantic stay, an ideal honeymoon experience. There are numerous activities to choose from, but the water activities are the real sell: water trampolines, sunset cruises, sailing, paddleboarding and more. 
47. PerdePera Resort, Italy
Italy's eastern coastline of Sardinia makes for the ideal vacation spot, and centred upon it is where you can find the PerdePera Resort—an all-inclusive resort in Italy. When most think of Italy, they visualize cities full of history, such as Rome or Venice. That's why the surrounding white sandy beaches, crystal clear waters, woods, and rocks overlooking the sea take most visitors by surprise. Enjoy a game of tennis or ping-pong, or visit their amphitheatre for a dance party. 
Financial and Business expert having 30+ Years of vast experience in running successful businesses and managing finance.