Future Retail Limited is an India-based company, which is engaged in the business of retailing fashion, household and consumer products through departmental and neighbourhood stores under various formats. The Company is a retailer that operates multiple retail formats in both the value and lifestyle segments of the Indian consumer market. The Company is primarily engaged in the business of multi-brand retail trade. Its retail formats primarily consist of value business and home business. In its value business, the Company formats include Big Bazaar, a hypermarket format; Food Bazaar, a supermarket; fbb, a fashion destination; Foodhall, a supermarket; easyday convenient stores, and WH Smith. In its home business, the Company operates Home Town, a one-stop destination for home improvement, and eZone, a consumer durable and electronics chain.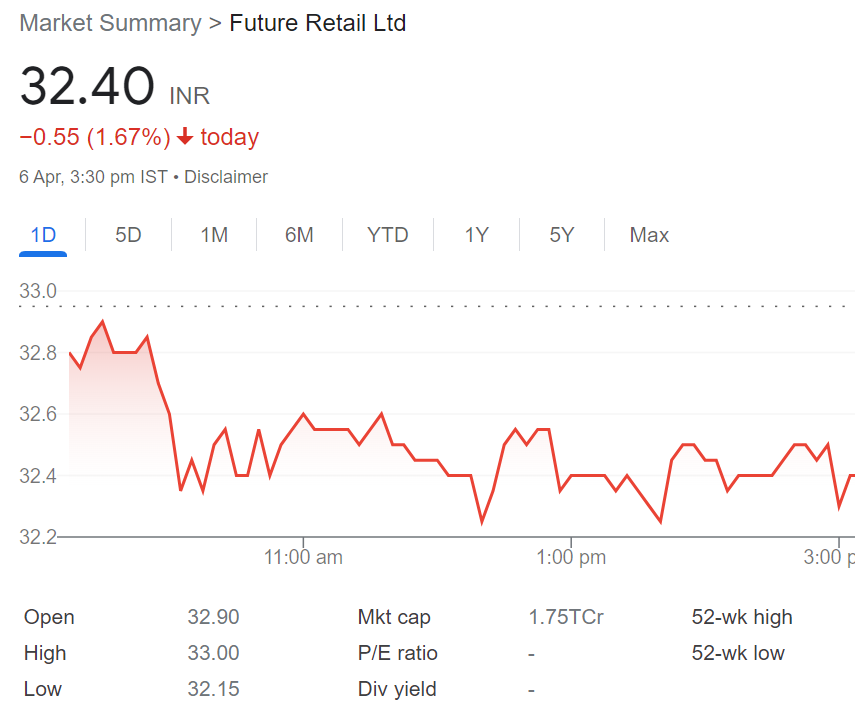 Future retail has an uncertain future right now. No one knows how the Reliance & Amazon battle would end finally. Mr Biyani is under deep stress regarding payment obligations. Hence, in spite of such a big name – Big Bazaar – this stock would be a gamble for quite some time to come. You must remember that whatever money you would put in Future Retail would be a gamble – you may win big or you may lose all.

On a little background check,
Future Retail has an enormous amount of debt, which it is unable to pay, it already defaulted on a few payments.
The company's stock performed well at the time of the D'mart IPO, but since 2018, the stock has been declining.
Amazon bought a stake in Future Retail's parent company in 2019. This means it holds a stake in Future Retail indirectly.
Future Retail sold all of its business to Reliance Industry in 2020. The deal was challenged by Amazon in an international court. The international court ruled in Amazon's favour, however, the Future Group refused to comply with the order.
Right now, the order is pending before the Apex court.
Now, let's move to the question of whether to invest in the company or not.
Future Retail fate depends on the Apex court's ruling, if it is in the favour of Future Retail then the stock may surge to ₹100 or above.
If the apex court gives its decision in Amazon's favour then, Future Retail has to sell its stake to someone else, which might be Amazon. But, the stock will be under pressure.
So, it all depends on the news and the verdict the Apex court would give. It's the news that is pushing or pulling the stock, so have a keen eye on the news if you want to buy or sell the stock.
Shares of Future group of companies were under pressure on Monday with Future Lifestyle Fashions and Future Retail tanking the most in tandem with a weak broader market. Future Lifestyle Fashions Ltd tumbled 9.08 per cent while Future Retail Ltd tanked 7.88 per cent.
Similarly, Future Consumer Ltd declined 3.48 per cent, Future Supply Chain Solutions dipped 2.37 per cent and Future Enterprises Ltd went lower by 0.13 per cent on the BSE.
Listed companies of the Kishore Biyani-led Future group on Saturday informed the exchanges about the meetings of their respective shareholders and creditors on April 20 and 21 to get their approval for the Rs 24,713-crore deal with Reliance Retail.
The 30-share Sensex plunged 571.44 points or 0.99 per cent to settle at 57,292.49.
Entities, including Future Enterprises Ltd, Future Retail Ltd, Future Consumer Ltd and Future Supply Chain, informed exchanges about dates and other procedures for the virtual meetings of shareholders and creditors.
According to the order passed by the Mumbai bench of the National Company Law Tribunal (NCLT) on February 28, the meeting of the shareholders would be held on April 20 and the meeting to seek the approval of creditors would be held on the next day, April 21, 2022.
The NCLT had given a go-ahead for convening the meetings of shareholders and creditors of respective Future group companies for the approval of scheme of merger and transfer of the business to Reliance Retail.
As part of the deal, Future Enterprises Limited is the transferee company to Reliance Retail.
Instead of going for a company that is struggling to survive, go for companies that are doing great but are undervalued.
Financial and Business expert having 30+ Years of vast experience in running successful businesses and managing finance.