What is Livestock Farming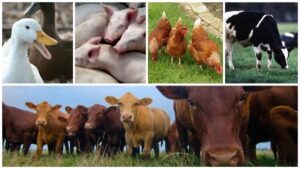 Livestock is commonly defined as domesticated animals raised in an agricultural setting to produce labor and commodities such as meat, eggs, milk, fur, leather, and wool.
Livestock farming is the rearing of animals for food and other human uses. The word 'Livestock' applies mainly to cattle or dairy cows, chickens, goats, pigs, horses, and sheep.
Today, even animals such as donkeys, mules, rabbits, and insects such as bees are being raised as part of livestock farming. Basically, livestock products are the main source of animal protein for human consumption.
Animal farming business or livestock farming business in India is very promising. Livestock farming can be operated from your backyard or as small scale or even on a large scale. Livestock farming represents the only way in which the natural vegetation that covers large parts of India can be converted into protein products that can be used by the human being. It provides draught power and manure to the crop enterprise and this, in turn, could provide feed and fodder.
The usefulness of livestock organs in medicines such as insulin has been understood only recently. Nevertheless, livestock farms have been benefiting us in several ways for ages – they provide us with eggs, honey, meat, and milk, etc. The skins or hides and even hair of these animals have been used to make blankets and other products.
Livestock management
Livestock management mainly involves managing farm animals and supervising farm-workers. Livestock management requires knowledge of animal science and animal husbandry, and also good business sense. Many livestock managers should also keep financial records for their operations. Depending on the farm size, managers may perform some physical tasks like operating and maintaining machinery, as well as personally attending to the livestock. Dairy farms, cattle ranches, swine operations, and poultry-farms all need effective livestock management to be successful and profitable.
Livestock farming business plan
Livestock farming is merged with producing crops, though some farmers do focus on livestock farming only, to enable them to have the opportunity to major on 1 or 2 livestock animals. These animals contain sheep, chickens, cows, goats, pigs, rabbits, grass cutter and others. Livestock farming has a high demand due to its meat that has several nutritious benefits to health. It is a profitable business and can be tasking.  It is domesticated animals raised in an agricultural setting to produce commodities like food, fiber, and labor. The term is used to refer solely to those raised for food and sometimes only farmed ruminants, such as cattle and goats.
Know your business purpose

Knowing the reason why you operate on livestock farming is important because it helps to know what you want and how you can achieve your purpose. If you are planning to venture on animals for meat and dairy products, then goat or cattle can be the best option to choose from.
Knowing your farm purpose helps you describe what you want. This is very essential in starting up livestock farming because what you select will determine the farm equipment that is required. For example, start a dairy business; entails raising livestock for a dairy product such as milk and the Meat production business entails raising livestock for meat consumption.
Choose a good location
Finding a location mainly depends on whether you are going into the large or small livestock farm business, it will help to decide the best location for your livestock business. It is very important to know the size of the land you want to buy because the land used in the rearing of cattle is different from the one used for grass cutter or rabbit farming. So if you want to venture into extensive livestock farms, getting a location in the rural areas is better as it will cheaper and sizable as well.
Check if the location is simply accessible by transport too, though this may not be a major concern; make sure the road is not too bad that it won't serve the main issue in you transporting your livestock to the markets.  In choosing a good location for livestock farming, you have to consider some factors such as seasonal variances, climate, regional vegetation, local cattle markets, and topography. All these have an effect on your farm business, to ensure that you carefully select your location.
Feeding for livestock animals
Feeding is very important in livestock farming business, so if you are into sheep, cattle, goat and grass cutting farming, it is advisable to plant grass around the area as it will help to reduce the cost that might occur on provision food and supplements.
Feeding is known to be one of the most important factors for successful livestock farming business because when they are been fed well, it will perform as supposed. Feeding your livestock animals well doesn't mean overfeeding, but it means giving them the right food for livestock. Feeding in livestock needs a great deal of knowledge, skill, and practice to be able to feed as required. It is important to understand the different types that can be fed to livestock, and then learn how the different foods can be combined together to form balanced rations for animals.
Stocking rate and grazing capacity
It is important to select livestock that is well adapted to the veld and climatic conditions of an area, and to the style of farming and intensity of supervision that the farmer chooses and able to apply. Animals that are not accustomed to extreme temperatures or periods of drought will struggle to survive, resulting in high livestock farm losses or increased expenses (for example purchasing additional fodder) to keep animals healthy.
Once you have to choose suitable livestock the next aspect to consider in determining a sustainable stocking rate for the area to be used for grazing. The stocking rate is the number of hectares necessary per stocking-unit per annum or grazing season for a given area. A suitable stocking rate is determined by the grazing capacity is also known as the carrying capacity of an area. Grazing capacity refers to the number of hectares required to sustain one Large Stock Unit (LSU) over a human generation without deterioration of the vegetation or soil. One LSU is equivalent to 6 Small Stock Units (SSU), for example, 1 cow (LSU) = 6 sheep (SSUs).
Get your livestock equipment
You have to ensure that all the equipment and essential things for livestock farming are available. So you have to consider its watering, feeding equipment, the livestock shed, and others are available. The capability to start a profitable livestock business depends on your ability to your equipment in order. So, it is important to ensure that all the required equipment is available to run your business.
The equipment necessary for your livestock farming includes; feeding equipment, livestock trailer, water tanks, a manure spreader, a corral system, and a headgate. Good livestock handling facilities are created to protect livestock and them safe. This includes facilities that reduce the amount of bruising damage and physical injury done to the farm animal.
Water requirements for livestock farm
Livestock water requirements vary depending on the animal size, suitability to arid regions, seasonality and the climatic conditions of the area. Small livestock units, such as sheep and goats, optimally require 7 liters of water per day. Small-scale farmers have told us that their sheep manage with 5 liters per day. Water requirements increase under high protein or salt diets and during periods of high temperatures. Ewes that are lambing or producing milk for lambs need more water. Water requirements of different breeds of sheep will differ, and those less adapted to arid regions will need more water.
Under extreme heat conditions, it is particularly important to ensure that animals have easy access to clean drinking water. Provide farm animals with adequate clean water of good quality on a daily basis. If sheep can survive with less frequent access to water, it will cost in terms of their condition.
Providing shelter for livestock
Livestock needs some form of shelter where they can rest and ruminate. The shelter is important for protection against extreme weather conditions. Most importantly, animals could need shelter from the very hot sun and cold and wet conditions. In veld that has plentiful trees and shrubs, sheep will generally be able to find a suitable shelter in all seasons, especially if they are familiar with the area. One exception here would be an extremely cold and wet event, where you would need to accommodate pregnant ewes, sick animals and lambs.
Register your business
It is advisable to have a business registered, most especially if you are planning on going into commercial livestock farming. You can register your farm business with the local authorities which also helps to advertise your business to people. Registering your livestock farm business does not only protect your brands but it goes a long way in making easier for you to select the appropriate structure for your business.
Obtain a loan for livestock farm business
Depending on your livestock business plan and the amount of money required to start your business, you can apply for a loan. Writing down your business plan will help to know you will need to start up your farm business, including how much you will need to purchase land and other products you might need for a farming business. You can borrow from trusted people you know.
It is also good that you interact with agricultural and small business organizations that can help in directing you to places you can go for a loan other than what you will get from banks. While going loan application, it is very important to go with your business plan because it will boost your chances of getting a loan. And always remember to start little to avoid much spending.
Get a nutritionist and veterinarian
Getting a nutritionist and a veterinarian will help you in achieving a successful livestock farming business. A good veterinarian and a nutritionist will help to keep livestock in good health. A nutritionist will help in terms of getting the right food for livestock. Also having a good relationship with these people can increase the chances of the successful livestock business. It is good to keep a relationship with your customers so that they can be able to help you during tough times. So, it is very vital in livestock farming to have a good veterinarian who can respond immediately when needed. Ensure that you work cooperatively with a veterinarian so that they can provide you with the best possible health care. Always make sure to have livestock vaccinated to prevent them from getting ill or contacting any injury.
Scope of livestock farming business
Livestock farming business is concerned with livestock and its products by farmers, traders and of inputs required by them in the production of these animals and their products. This subject of livestock business contains product marketing as well as input marketing.
Livestock rearing is an age-old practice even before the existence of agricultural farming with seed. Traditionally nomadic farmer reared their livestock wherever the feed and water were obtainable. Now day's modern animal husbandry activities attract usage of scientific know-how on breeding, feeding and animal health care. Modern practices can be more input-intensive. Thus the scope of livestock farming business includes both input and output trading.
These are the subject matter of livestock marketing includes marketing function, agencies or traders, channels, efficiency and costs, price spread, market integration, production surplus, government policy and research, training and market statistics. The business of livestock farming products is a complex process. It includes all the functions involved in the movement of produce from livestock farmers to consumers.
Financial and Business expert having 30+ Years of vast experience in running successful businesses and managing finance.