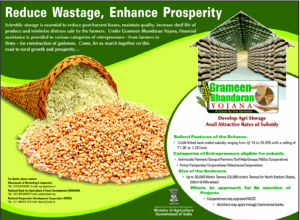 Gramin Bhandaran Yojana is a capital investment subsidy scheme that works towards the construction and renovation of the warehouse in rural areas. Gramin Bhandaran Yojana was announced in 2001.
Purpose
The Gramin Bhandaran Yojana foresees a robust network of non-urban warehouses to help build adequate storage for farm produce in rural areas. The purpose of the scheme is to cater to better storage facilities of farm produce and agricultural inputs to boost its demand in the market and pave way for a system of warehouse receipts on a national level.
Features
Size of the warehouse
The owner has to decide the capacity of his godown. Subsidy for the scheme is provided for a minimum potential of 100 loads and a maximum of 30,000 loads.
Loans
Farmers can avail of the loan facility. The interest rates, loan amount and pledge period are based on the NABARD/Bank guidelines and practices of various financial institutions
Conditions
A warehouse should be robust in terms of their structure for the storage of agricultural produce. Owners have to get a license under the State Warehousing Act. Warehousing which has the capacity to store around 1,000 tons must be accredited by the Central Warehousing Corporation (CWC)
Location
Warehouse must be constructed outside the limits of the municipal corporations.
Credit linked assistance
Subsidy linked to institutional credit is available for projects financed by the following:
Urban Cooperative Banks,
Regional Rural Banks,
Commercial Banks,
North Eastern Development Finance Corporation (NEDFI),
State Cooperative Agricultural and Rural Development Bank,
State cooperatives banks, and
Agricultural Development Finance Committee
The credit facility will be extended for construction costs of boundary wall, grading, platform, packaging, internal road, the internal drainage system in addition to quality certification and warehousing facilities
Capital Cost
It depends on the actual cost or cost of a project appraised by a bank or Rs.3500 per ton, whichever is lower for 1000 tons warehouse.
Depends on the actual cost or cost of a project appraised by a bank or Rs.1500, whichever is lower for bigger than 1000 tons warehouse
Subsidy
Projects which receive finance from cooperative and commercial banks will get subsidy via NABARD. The subsidy rate is as follows:
| | |
| --- | --- |
| Category of Applicant | Rate of Subsidy |
| SC/ST entrepreneurs and their cooperatives | 33.33% of the capital cost of the project, subject to a maximum of INR 3 crores |
| Farmers, agricultural graduates, and cooperatives | 25% of the capital cost of the project, subject to a maximum of Rs. 2.25 crores |
| Individuals, companies, and corporations | 15% of the capital cost of the project, subject to a maximum of INR 1.35 crores |
| Renovation of warehouses of cooperatives with the aid of NCDC | 25% of the capital cost of the project. |
Provisions of the scheme
For warehouse up to 1000 ton capacity, the project cost was appraised by financing Bank or the actual cost to Rs.2500/- per ton of storage capacity.
Warehouse exceeding 1000 ton capacity can get the appraisal by Bank and the actual cost of Rs.1875/-per ton of storage capacity.
For the warehouses exceeding 10,000-ton capacity, the subsidy would be restricted to 10,000 ton only, and are also subjected to the relaxations.
No beneficiary will draw the subsidy for the warehouse project from more than one source.
The capacity of the warehouse is calculated at 0.4 Million tons per cubic meter.
Security
Mortgage of land and godown
Eligibility for Gramin Bhandaran Yojana
The following are eligible to avail of the Gramin Bhandaran Yojana
Farmers
Farmers' groups
Proprietary firms
Co-operatives
Non-Governmental Organizations
Marketing Boards
Agro-processing co-operative societies
Agro-processing corporations
Agro-industrial corporations
Agricultural Produce Marketing Committees
Other corporations
Quality testing laboratories
Partnership firms
Companies, and
Self-help groups
Objectives for the Gramin Bhandaran Yojana
To create the storage capacity in rural areas to help farmers.
Promoting to improve its marketability.
Preventing the wastage and deterioration.
Providing infrastructure for farmers for the storage of agricultural commodities.
Important References
Important contacts – DMI Contacts
National Bank for Agriculture & Rural Development (NABARD)
National Cooperative Development Corporation (NCDC)
Financial and Business expert having 30+ Years of vast experience in running successful businesses and managing finance.