Automatically track and get notified for COWIN Vaccination slot availability. Notification by email/ sms/ telegram
In India, Vaccination is now open for people between 18 to 45 years, but getting an appointment is difficult as slots are getting occupied reckless. Also manually searching appointment through the CoWIN portal is slow and cumbersome, likely because of the huge number of people trying to use the site in order to get vaccinated as Covid impacted India very badly.
However a number of developers have been creating resources to automatically track and get notified for the next available appointment, to make it faster and easier to book a COVID vaccination through the CoWIN platform.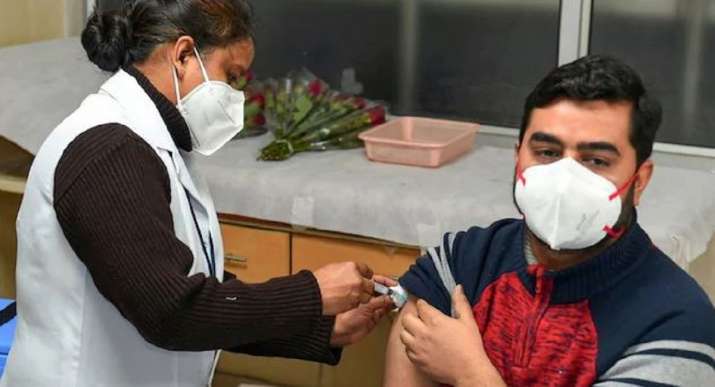 These sites are even sending alerts, using email, or chat services like Telegram, to let people know when the next vaccine appointment is available nearby. While the CoWIN registration process is simple, these sites take away some of the hassle of booking an appointment by reducing the amount of time spent hunting for slots. However, while these sites offer alerts to an open slot nearby, you will still have to go to the CoWIN portal to book an appointment. These sites don't let you book appointments but only find slots. Users will have to act fast as these alerts are real-time, and most likely, the Vaccine stocks are limited.
Tools for automatic tracking
Getjab.in – Notification by Email/SMS
Freshworks product manager Shyam Sunder has created a website called Getjab.in, which will notify you via email when a vaccine slot becomes available in your city. For getting email alerts, one will have to visit the website Getjab.in. You will have to enter your name, district, email address, and phone number. When the vaccine slot becomes available in your city, Getjab.in will notify you via email. As of now, the website is only sending an email alert, and no SMS support is available at the moment. However, according to details displayed on Getjab.in, the team is currently working on SMS support, which might arrive in the upcoming few days.
The Getjab.in website is handy for many people, who can't find the proper time slot and are seeing the booked slot whenever they visit the Cowin portal.
FindSlot.in – Check Slots faster
Another site that can help you to quickly navigate through the covid appointment bookings, FindSlot.in also uses the CoWIN open API to allow people to search by their city, or by their PIN code, or to enter their State and District to find the nearest booking for a COVID-19 vaccine.
Under45.in
Programmer Berty Thomas has come up with a website called under45.in to help people aged 18-44 to search for open vaccination slots nearby. The CoWIN portal shows all vaccination results, and mentions whether the slots are for people under 45 or above, but this means younger people who are now eligible will see lots of results that are not relevant to them. This website only shows appointments for people between 18 and 45 in order to make it easier to search.
People can head to under45.in, enter their state and district and find slots nearby. Under45.in also provides district specific alerts on Telegram, notifying users when the vaccine is available in specific areas.
Links to enabling these alerts on Telegram can be found on the Twitter thread.
Vaccine alert with the help of Google Sheet
Another way to get vaccine alerts is with the help of Google Sheet. Labnol.org founder Amit Agrawal has created an open-source vaccine tracker with the help of the public Cowin API. This vaccine tracker automatically monitors the vaccine availability near you and sends you an email when the vaccine slot becomes available in your city or pin code. The process to get started with this is pretty simple, as you just have to create a copy of the Vaccine Tracker Google Sheet in your Google Drive. Below are the steps you can follow to receive the vaccine availability email alerts:
Step 1: To get started, you will have to click here and make a copy of the Vaccine Tracker in the Google Sheet.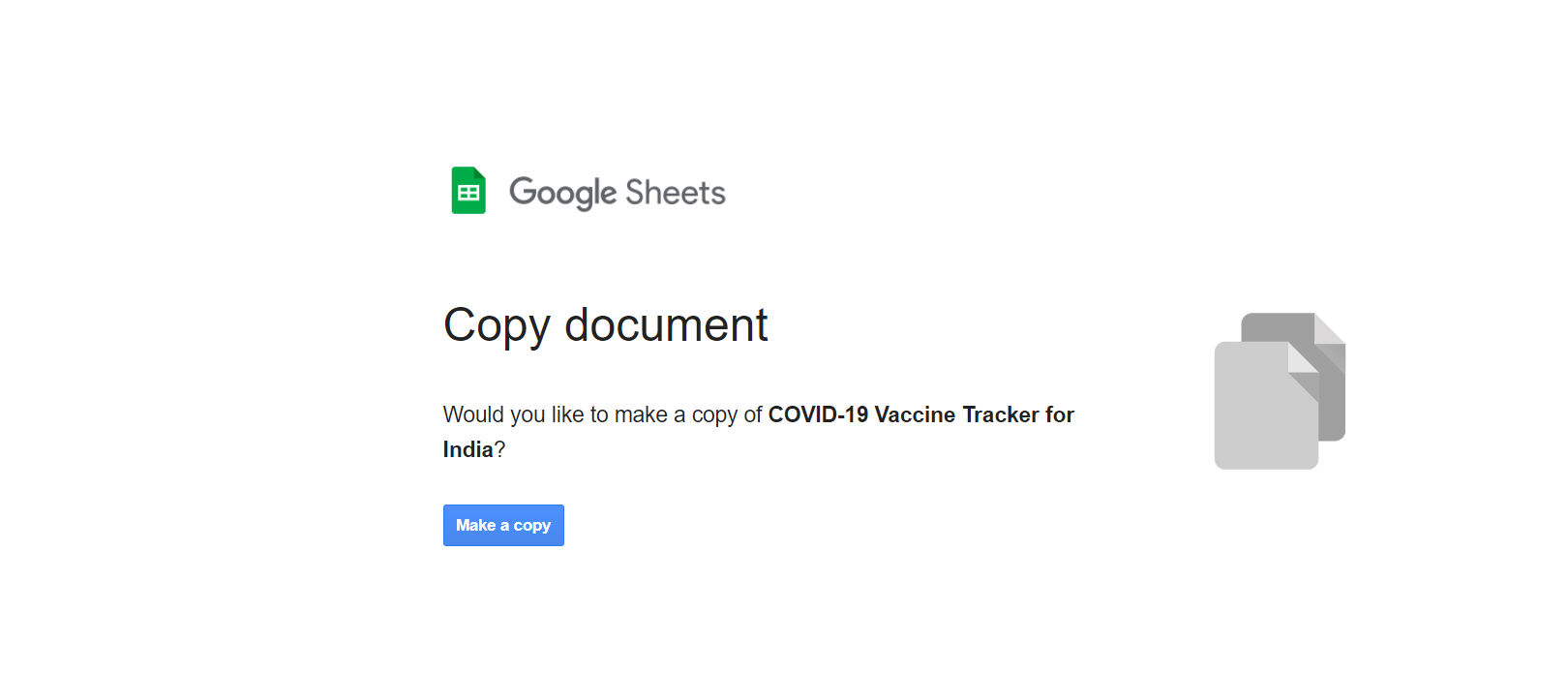 Step 2: You will have to click on the vaccine tracker menu and choose Enable as shown in the below image.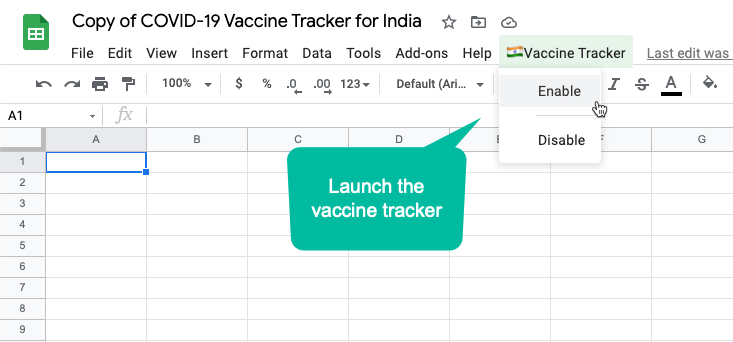 Step 3: You will see an authorization window, where the prompt will be displayed with the message as: "Google hasn't verified this app". You will have to click the Advanced link and choose "Go to Vaccine Alerts".
Step 4: Thereafter, you will have to go to Step 2 now, choose the Enable menu again to launch the vaccine tracker. You will have to enter pin codes (comma separated), and email address where you wish to receive the alerts. This vaccine tracker even has the option to select the age group option from the 18+ and 45+.
Google Sheet will monitor the vaccine availability and send you an email alert at 8 AM. The vaccine availability is checked with this tracker every day but you can change the frequency to every 4 hours or every hour. If you wish to stop the email alerts anytime, you will have to head over to Google Sheet copy, click on vaccine tracker, and choose the disable option.
Lets get Vaccinated
Hope above alert option works for you and you get vaccinated at the earliest. If we missed any other such toll, please let us know in the comment section and we'll add those too in order to help everyone.
Financial and Business expert having 30+ Years of vast experience in running successful businesses and managing finance.