Ramoji Film City is India's only thematic holiday destination with cine magic. It is certified as the World's Largest Film Studio complex by Guinness World Records and spreads across 2000 acres. Millions of tourists visit the amusement park to live their dream vacation. It is a perfect getaway and theme park that stimulates the mind and heart alike.
Actually spread across a sprawling 1666 acres, Ramoji Film City, set up by Ramoji Group in 1996, is a dreamy celluloid journey. Certified by the Guinness World Records as the world's largest Filmstudio complex, at Ramoji Film City, a filmmaker can walk with a script and walk out with a film.

A comprehensive, fun entertainment and leisure hub, Ramoji Film City is a unique engagement with the magic of cinema whose heavenly charm is unravelled in every element, including breath-taking avenues, landscapes, make-believe locales and unlimited fun and entertainment options. Plan for a wonderful vacation, Film City Tour to experience the excitement of an enthralling film studio complex – Ramoji Film City. Stay with us to get a deeper insight into the world of filmmaking. Avail of customised stay packages offering great value discounts exclusively for Winter Carnival and New Year Celebrations. Ramoji Film City offers diverse stay options ranging from luxury to shared accommodation. Sitara – the 4-star Luxury Hotel, Tara – the 3-Star Comfort Hotel, Shantiniketan – the best service apartment and Vasundhara Villa – farm house accommodation – ideal for family stay, Hotel Greens Inn offers to stay amidst the serene nature and Hotel Sahara provides shared accommodation with separate blocks for boys and girls, make excellent group stay.
Development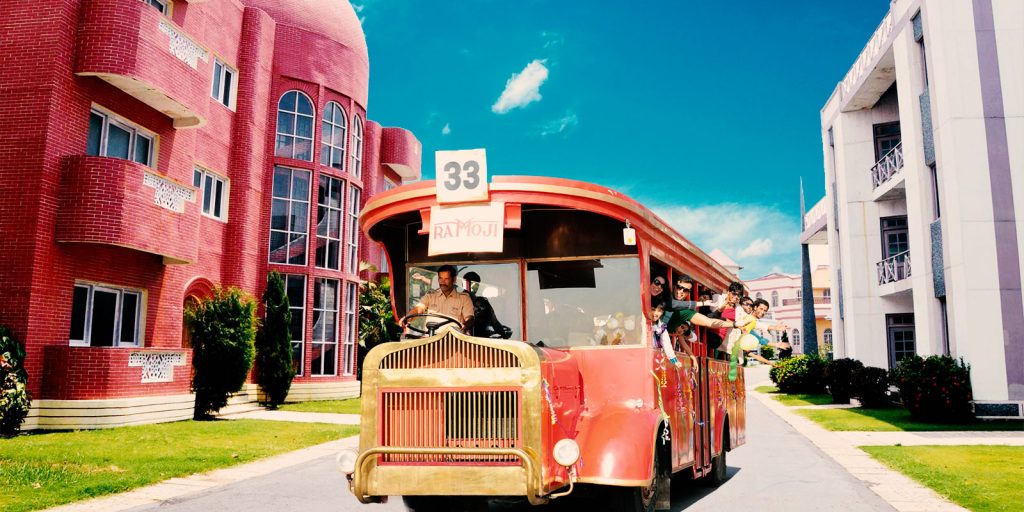 The film city is the brainchild of film producer Ramoji Rao, who wanted to build a studio similar to the ones in Hollywood. On procuring the land, he signed art director Nitish Roy to design the complex. According to an executive, the builders kept the land, which at that time consisted of jungles and mountainous terrain, intact, without removing one tree or mountain.
The studio has a central kitchen for the various film units shooting at any given point in time.
People can visit the film sets, theme parks, amusement rides, etc. The film city also has 6 hotels inside it, 47 sound stages and permanent sets ranging from railway stations to temples.
The film city also has the set used for the films Baahubali: The Beginning and Baahubali 2: The Conclusion, all the statues and props used in the films can be seen here.
What is the ticket price of Ramoji Film City? The entry fee of the Ramoji Day Tour Package is Rs.1250 + Taxes per adult and Rs.1050 + Taxes per child (from 33" Ht to 54″ Ht height).
Ramoji Blockbuster Package comprises of room tariff, welcome drink and snacks along with a buffet breakfast. Along with this, guests are presented with free usage of the health club and swimming pool. Facilities of laundry, hydrotherapy, room services, etc.
One can carry only juice or a water bottle. You can board the bus from the entrance which will drop you inside the city called a "EUREKA", from the entrance to Eureka it's around 20 minutes. There is an opening ceremony at 10.00 AM closing ceremony at 6.00 PM as it was Saturday.15-Aug-2015
Carrying arms, explosives, inflammable materials, food articles, alcoholic beverages and narcotic substances are not permitted in RAMOJI FILM CITY. Animals and Pets are not allowed in RAMOJI FILM CITY. RAMOJI FILM CITY is not responsible for any injury, loss or damage to visitors or their belongings.
Food is just average. Buffet system with adult thali cost 260/280 (don't recollect exact cost) and kids 210. If it was not inside Ramoji, it wouldn't have survived.
Work culture is rated 3.81 at Ramoji Film City by 109 employees.
Ramoji Film City in Hyderabad has gotten quite popular after the release of the Baahubali series. The place is huge filled with multiple sets and locations catering to various different projects. Thus certain scenes from Baahubali were shot at the Ramoji Film City.
2 days are enough to complete Ramoji Film city and the rest of 1 day is enough to complete other main attractions.
The best time to visit Ramoji Film City is during winter as Hyderabad gets very hot during summers. You should visit Ramoji Film City from October to February, when the weather is cool and at its best.
This accommodation in Hyderabad has 126 well-appointed rooms, spread over 6 floors. Rooms include conveniences like a desk, tea/coffee maker, television, telephone and attached bathroom. Ramoji Film City Hotel Tara has a conference room, restaurant, business centre and parking area within the premises.
The nearest metro station to Ramoji Film City is LB Nagar Metro Station which is located at a distance of 12 km. By Road:- You can either board a taxi or self-drive in your private vehicle to reach Ramoji Film City.
So, overall it is a full day or two-day program. Have a nice trip!!!
Financial and Business expert having 30+ Years of vast experience in running successful businesses and managing finance.