Art of Living ashram is a beautiful and serene place to experience peace within. Satsang in the ashram is a not to miss event.
Operating in 156 countries, The Art of Living is a non-profit, educational and humanitarian organization founded in 1981 by the world-renowned humanitarian and spiritual teacher – Gurudev Sri Sri Ravi Shankar. The Art of Living community is diverse and attracts people from all walks of life.
Welcome to The Art of Living International Centre! Situated on the top of the Panchagiri Hills. It is situated 35 km southwest of Bangalore, near Udipalya village. The campus is an ideal location for reflection and rejuvenation. It is connected by Road via Nice Ring Road or Banashankari – Kanakpura Road. It started in 1981 and spread over 95 acres. The campus has an abundance of flowering foliage spread along winding footpaths, a peaceful lake and the exquisitely beautiful Vishalakshi Mantap, the central meditation hall. Satsangs, held every evening, are gatherings where different minds unite through music, meditation, and wisdom to experience an elevated state of consciousness. Through Seva (voluntary service) one can experience the humble satisfaction of doing selfless work here, from serving food in the kitchen to keeping the premises clean to working in the various departments that focus on various projects and the ashram's upkeep. The Vishalakshi Mantap, named after 'Amma', Sri Sri's mother, is the main Meditation Hall in the form of a fully blossomed 1000 petal lotus. Its reflective dome that mirrors the sun during the day is lit up at night to a synchronized change of coloured lights. The dome and golden spire that can be viewed from all parts of the sprawling campus grounds play the role of a compass – lending a sense of navigation to the spiritual seeker. Courses are held in various rooms at different levels of the mantap and satsangs are held on the main level. Each level opens onto a gallery. Following a circular design, the levels provide an excellent view of the campus grounds and the open grounds and hills in the distance. Built on a smaller scale, is the Sumeru Mantap in the more secluded, old ashram campus. When the campus was newly set up, and there was a much smaller gathering of people, satsangs were held here. It is a circular 3-tiered gallery with a garden in the centre and the sky for a roof, dominated by a large densely foliaged banyan tree in the centre. The Radha Kund gardens recapture the mystical garden of Vrindavan, replete with a pair of elephants, a pair of geese, a deer, some rabbits and a number of exotic birds! This is an excellent place to observe various birds as they sweep over the lake – and a good place to unwind, reflect and take stock of one's life. From the gardens, one can hear the Sanskrit chantings of the boys at the Gurukul nearby. The seven-year training program at the Gurukul teaches students how to conduct temple rituals. The course syllabus also includes the study of the Veda, Agama, Sanskrit, Astrology, Yoga, music, Sculpture, Epics and scriptures. The Goshala, home to over 250 cows, is an important project undertaken to preserve the native breed of Indian cows. The cows enjoy human company and visitors receive great pleasure in brushing and petting the cows. For those who wish to simply relax, The Sri Sri Ayurveda Panchakarma (Wellness Spa) offers the ideal retreat for the body and mind. Apart from the super ambience and free food, one can select from a number of rejuvenating therapy packages the spa offers. On-campus is a very popular, vibrant eatery, The Vishala Cafe which serves Indian and Continental fast food. It is here that youngsters like to meet, relax, exchange ideas, play the piano or eat a filling meal while reading from the selection of books displayed at the cafe. An array of shops are also present on campus – two Divine shops (selling music and books), The Divine Services (a provision store), Madhurya (traditional artefacts, and gifts), Sri Kriti (a boutique that sells handmade products by rural women and traditional craftsmen) and Sri Sri Agriculture with its fresh produce of fruits and vegetables grown on campus. The minimum time to be spent visiting a full campus is 3 hrs. The Bangalore Campus makes for a truly self-contained retreat – your home away from home!
Must visit Sumeru Mantap, Vishalakshi Mantap, Gurupaduka Vanam, Panchakarma, Gaushala, Gurukul and Shiva temple. It's a heavenly experience when we stay at Ashram and do the Meditation course or Happiness Program. It will be the best vacation one can gift to oneself.
The beginning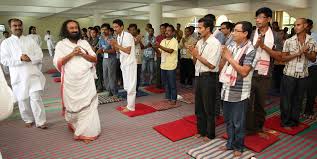 Born in 1956 in Southern India, Gurudev Sri Sri Ravi Shankar was a gifted child. By the age of four, he was able to recite parts of the Bhagavad Gita, an ancient Sanskrit scripture and was often found in deep meditation. Gurudev's first teacher, Sudhakar Chaturvedi, had a long association with Mahatma Gandhi. By the age of seventeen in 1973, Gurudev had graduated with degrees in, both, Vedic literature, and physics.
Founding The Art of Living and the International Association of Human Values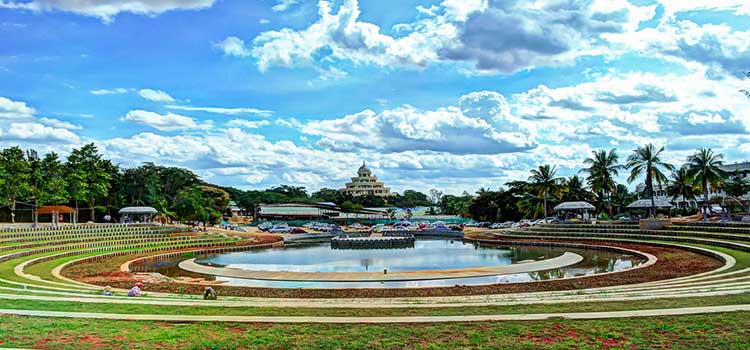 Gurudev founded The Art of Living as an international, non-profit, educational and humanitarian organization. Its educational and self-development programs offer powerful tools and account to eliminate stress and foster a sense of well-being. Appealing not only to a specific population, these practices have also proven effective globally and at all levels of society. The Art of Living program is currently offered in 155 countries. In 1997, Gurudev co-founded the International Association for Human Values (IAHV), a sister organization of The Art of Living. The IAHV coordinates sustainable development projects nurture human values and initiate conflict resolution.
Inspiring service and globalizing wisdom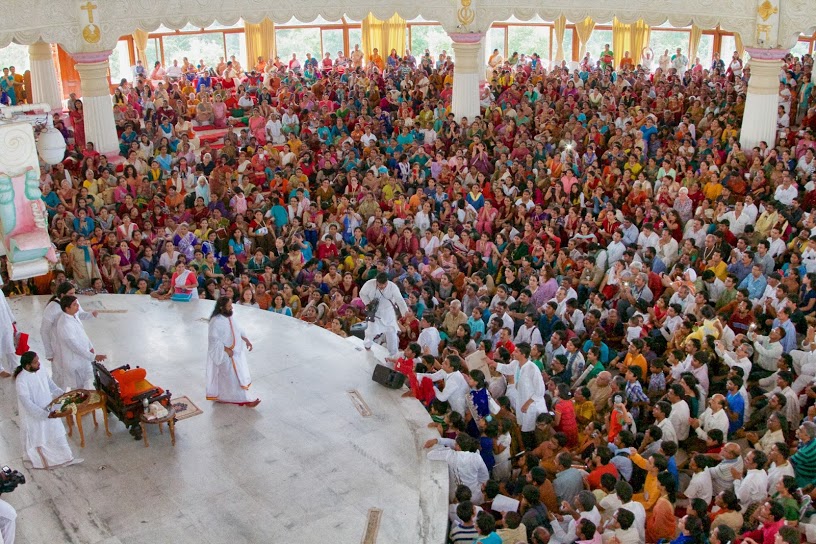 A noted humanitarian leader, Gurudev's programs have provided assistance to people from a wide range of backgrounds – victims of natural disasters, survivors of terror attacks and war, children from marginalized populations, and communities in conflict, among others. The strength of his message has inspired a wave of service based on spirituality through a huge body of volunteers, who are driving these projects forward in critical areas around the globe.
As a spiritual teacher, Gurudev has rekindled the traditions of yoga and meditation and offered them in a form that is relevant to the 21st century. Beyond reviving ancient wisdom, Gurudev has created new techniques for personal, and social transformation. These include the Sudarshan Kriya which has helped millions of people to find relief from stress and discover inner reservoirs of energy and inner silence in daily life.
A Figure of Peace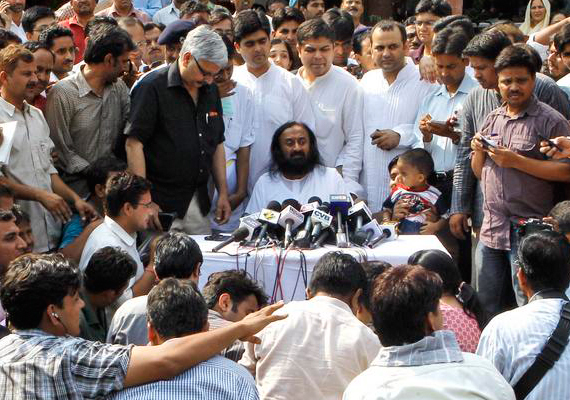 As an ambassador of peace, Gurudev has played a key role in conflict resolution around the world as he shares his vision of non-violence at public forums and gatherings worldwide for free. Regarded as a neutral figure with a sole agenda of peace, he represents hope to people in conflict. He has received particular credit for bringing opposing parties to the negotiating table in Colombia, Iraq, the Ivory Coast, Kashmir, and Bihar. Through his initiatives and speeches, Gurudev has consistently emphasized the need for reinforcing human values and recognizing that we belong to a one-world family. Fostering interfaith harmony and calling for multi-cultural education as the remedy for fanaticism is significant parts of his efforts to achieve sustainable peace.
Gurudev has touched the lives of millions around the world through a reawakening of human values and service. Going beyond race, nationality, and religion, Gurudev has rekindled the message of a one-world family, which is free from stress, and violence.
Financial and Business expert having 30+ Years of vast experience in running successful businesses and managing finance.