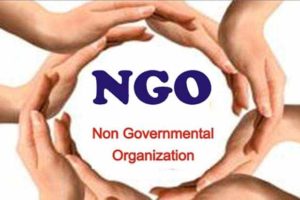 A non-profit organization that operates independently of any government, typically one whose purpose is to address a social or political issue. NGO may be defined as an association having a definite cultural, educational, religious or social program registered with the Central Government. NGOs enable residents to work together voluntarily to promote social values and civic goals, which are important to them. They promote local initiative and problem solving through their work in a broad array of fields like environment, health, poverty alleviation, culture & the arts, education, etc.
The full form of NGO is Non-Governmental Organization; NGO's are also referred to as Non Profit Organisations (NPO's) sometimes.
These kinds of Organisations can be registered in India as Society under the Register of Societies or as a Trust by making a Trust Deed or as a Section 8 Company under the provisions of Companies Act, 2013.
Types of NGO
To clearly demarcate between government related organizations and non-governmental organizations, a detailed list was created about the types of NGO. Some prominent ones are:
BINGO: 'Business-friendly international NGO' or 'Big international NGO'
TANGO: 'Technical assistance NGO', EMPIWF is an example.
GONGO: 'Government-operated NGOs' (set up by governments to look like NGOs in order to qualify for outside aide or promote the interests of government)
DONGO: 'Donor organized NGO'. Sankalp India Foundation is an example. INGO: 'International NGO' (like the infamous Greenpeace)
QUANGO: 'Quasi-autonomous NGO,' such as the International Organization for Standardization(ISO).
TNGO: 'Transnational NGO.' The term emerged during the 1970s due to the increase of environmental and economic issues in the global community. TNGO includes non-governmental organizations that are not confined to only one country, but exist in two or more countries.
GSO: Grassroots Support Organization
MANGO: 'Market advocacy NGO', CSG(Consulting for Social Good) is an example.
There are six types of NGOs classified as per their activities:
Service oriented NGOs
Research NGOs
Supportive NGOs
NGO for policy advocacy
Funding NGOs
Coordinating NGOs, on the basis of operational areas, they are identified as community- based NGOs, National NGOs and International NGOs.
Fundraising
How does an NGO run? What are the best methods of getting funds for an NGO?
In India you have to work for 2 years and then only you could apply for funding. You have to submit all the reports to the funding organisations for getting fund. There are several national and international funding organisations and bodies who could give funds as per the issue and vulnerability of your focus area.
Nowadays 2% CSR funding is available from corporate and even you could get funds from government departments. But it depends on your focusing area.
Procedure to Start
Procedure to start an NGO in India
To start and run NGO you will need more than just money, a genuine desire to support others. You have to pass through and adopt the process to prepare and filling up paper work, meet and associated like minded persons of society, have to arrange funds and manage financial activities with reports, have to pay fees and other expenses, have to plan and prepare budget proposals, prepare and organise projects and implement to run NGO.  To start and run NGO is almost similar process to run company but here you have to keep transparency and it is not for profit, you have to work for welfare of society without expecting any profit. So you have to make sure before running an Nonprofit Organisation that you really want to do. Below are the procedure to start the NGO:
Decide Purpose, Vision and Mission of your NGO
Set up the Board of Directors/members- To start  and setup social entrepreneurship as in form of NGO, the founder(s) must be with a organised team of the members that will be the board of directors of the organisation. It can be initiated and started with the like minded, dedicated persons with the spirit of charity and social welfare with commitment, because the members initiating are the base and foundation of the NGO. The financial status can be initiated by own efforts and with the help of supporters. The legal and technological skills can be made available by contacting expert consultants. The persons with clear mission and goals of the organisation and sustainable and progressive ideas to contribute in the entrepreneurship task are essential part of the process. The founder persons must be able to work in a team in order to setup and make stable the organization by initiating and getting acceptance with the community. There is no limit of number of persons of founder members or their supporters it depends upon the contacts and acceptance of the needs for which the NGO is to be established.
Choose the name of your NGO – The name of NGO can be according to your ideas or it can be unique as you have planned to serve the sector and part of society. In India the name of the NGO must be not equal to the any name similar to any Government Body, Board or Ministry. The names must not be restricted in the Logo Act. When you are registering with the required name under Society Act then it is essential to find and make sure that the proposed name is not already being used in the office or the jurisdiction where you have to apply for the Registration. The name is not an issue if you want to register the NGO as Trust under the Indian Trust Act .
Make MOA/AOA- The Memorandum or Articles of Incorporation or Articles of Association or Bylaws must be in a pre-decided and normal required legal format and description. The Memorandum or Articles of Association or Bye Laws or the Trust Deed is the main part of the form and status of the organisation as the NGO. In the Memorandum the Bye laws are included that assign power to the members, board, authorities, decide the area of working, decide the way of working, describe the required clauses that any funding agency, ministry, department of any licensing authority or any department including Income Department need the certain clauses, description and language that describe the approval of the process and licensing measurements. Before applying to registration the Memorandum must be prepared and drafted in acceptable pattern, manner, process and parameters that are required at the time of registration, after registration and for approval of registration under any tax act, approval to get funding and licensing. The matter and information that is to be added and included in the clauses and articles are varies between authorities and departments so the role of expert and experienced legal NGO Consultant matters most at part of preparation of the Memorandum. If the Memorandum is prepared by copy paste parameters then the registration of the NGO can be useless or with no purpose to get funds and authenticity. The Objectives must be included on which you have planned to work with and decided to form the NGO. The legal NGO Consultants better know that what kind of requirements are there to prepare the Memorandum and what clauses and Articles must be added and what must not be added or included to avoid controversy or against the purpose to work in certain sectors in all over the country, in certain area or beyond in the available suitable legal parameters. In case if the Memorandum or Articles of Association is not prepared according to the requirements for a NGO who needs funds and sustainability then it will be useless or there may be requirement of amendment in the Memorandum after sometime of at the time of requirement of such clauses or terms of matter in Memorandum. The following are the main and general points to be included that is often expected:

Name of the NGO
Objectives/Purpose/Mission
A clear statement that declares that the NGO is nonprofit and Charitable
Location/ working area of the NGO
Name of founder/board members with required designations
Extent of personal and social liability of members, beneficiaries, associates and concerned
To explain the capital stock and other instruments of NGO
How long the NGO is expected to exist as revocable or irrevocable.
Other required information and details.

Register your NGO- Once decided and chosen the name of NGO, prepared and completed bylaws and articles then you can proceed to register or incorporate the organisation. The rules and regulation are different in various status and various Registrar offices. So you can take advice and support of consultancy firm or consultants. The documents, fees and process to submit them are different in at different states, districts and even at at different zones in the status. Approximately, you need only Rs.500 for registration fee. But, you will also need to have around Rs.5000 to 6000 for documentation fee, consultation, etc. In all offices and at registration authorities it is mandatory to submit the Memorandum with the names of founders and names of the board members, objectives, mission statement at the time of registration. You can seek the help of the legal consultants.
Get connected with people and societies
After two years start getting funds
NGO Business
Can a NGO do business?
Initially NGOs can do businesses and some profit is acceptable. However, if the NGOs start making excessive profits out of their services, it is only then that other people may start questioning.
Financial and Business expert having 30+ Years of vast experience in running successful businesses and managing finance.