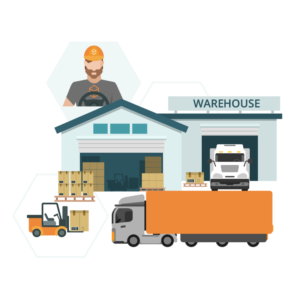 Starting a business is not possible without hard work and investment. There is a lot of responsibility, work, long hours, investment, and stress involved. But the rewards are amazing. If you are trying to enter the warehouse business, two things you must care about are –
This industry is highly competitive, but that's exactly what makes it so profitable.
Let's first know exactly what a warehouse is? After this, we will talk about the below points:
Checklist
Profit Calculations
Subsidy from Government
Loan from Banks
Other important topics about the business.
So, a warehouse is basically a building for storing goods. Warehouses are used by manufacturers, importers, exporters, wholesalers, transport businesses, customs, etc. Stored goods can include any raw materials, packing materials, spare parts, components, or finished goods associated with agriculture, manufacturing, and production. Example of warehouse: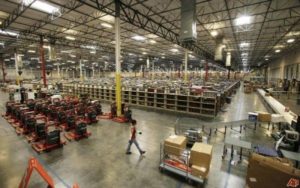 Seems similar to godown? Is it?
No, they are different. A Godown is an unorganized form of the warehouse, it is of Indian origin, and it's personal in terms of the store like one retailer store has its own godown, and any place can be converted to godown for storing products. Example of a godown:
You would like to obtain some initial background information about the warehousing industry before starting your venture.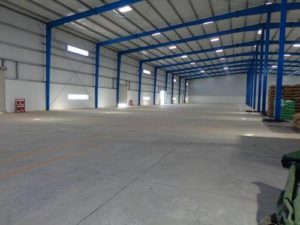 Estimating the need
To start a warehouse, the first thing is to estimate the need. So, these are required to be done:
Determine the demand – First of all, you need to determine the demand of warehouses in your area whether they could be Government, Private Companies, your own requirement, etc.
Determine the Location – For the warehouse you have to be careful about its location. Location is the primary factor of its demand by any institution. Normally it should be within 10 km from Railway station, airports, and seaports where goods can be loaded and unloaded easily.
Determine the size –Size of warehouse depends upon demand and space available. Although the ideal size of a single warehouse is 25000 sq.      ft. which could be made without any pillar in the center. This will avoid obstruction to plying loading vehicles.
Lookout the Competition – You must watch demand and supply in your area.
Estimate Start-Up Costs – Estimation of cost and availability of finance you must ensure based upon Land availability, Landfill cost, clear road for maneuvering loaded vehicles, Security of space, connectivity with the main road, and construction work.
Explore Financing Options – Many Govt. and Private sector banks are giving loans nowadays for warehouses.
Get Licenses – Must seek licenses applicable as per your state government rules of licensing for warehouse. Without proper licenses, companies will deny to take on lease.
Hire Contractors – Then you can hire specialist contractors who are mastered in building warehouses – This will ensure your quality of construction and life of the warehouse.
Hire Employees – Then hire employees like security guards for safety, Loader/un-loader, accountant, etc.
Build a Client Base – Actually, this is the first thing required and could be based on the demand of the warehouse.
Major things to be taken care of before starting the warehouse work
Maximum use of space
Ready access to all items
Efficient movement of goods
Effective utilization of labor & equipment's
Maximum protection of items
Good-house-keeping
Cost of Construction
Warehouses construction is based on the type of building you prefer. It could be
Steel structures (PEB)
Reinforced concrete structures (RCC)
Mostly PEB structure is preferred for warehouse because it is fast in erection and it is durable. For future extension it is very easy to be extended. As per the requirement the PEB structure is designed and the casting is done in a factory and erection is made on the site. Generally PEB structure construction starts at INR 1000/sq. ft. to INR 1200/sq. ft. The foundation work, the major part with RCC other than that the erection can be done fast and handed over.
For RCC it will cost roughly from 1500/sq. ft. to 1600/sq. ft. Columns can be built till the required heights and the roofing can be of galvanized sheets industrial grade with all ventilation and ridges and all.
In addition to this cost also depends on-
Kind of structure are you willing to build
Built-up area planned
Locality i.e. rural or urban
Construction work by self or giving it to some company
Material costs are varying, so selecting the options also matters
Demand and supply of labour and material matters
Estimated Return from a warehouse
So, let's say you have Rs.50 Lacs to spend for a warehouse. As per bank loan norms you can get 75% loan i.e. 1.5Cr assuming commercial financing with 25% down.
Let's say that you can purchase a warehouse @3000/sf., so you end up with a 6667sf warehouse to rent.
If you can rent the warehouse at @35/sf./month, you'll have a gross income of Rs.2, 33,333/month or Rs.28 Lacs/year.
The calculation for 1st year looks like
| | |
| --- | --- |
| Particular | INR |
| Own Capital | 5,000,000 |
| Total Capital | 20,000,000 |
| Loan 3 times of own cap | 15,000,000 |
| Rate of warehouse Per sq. ft. | 3,000 |
| Total warehouse purchased in sq. ft. area | 6,667 |
| | |
| --- | --- |
| Income in INR |   |
| Rent @35 per sq. ft. | 233,333 |
| Rent Annual | 2,800,000 |
| Total Profit | 2,800,000 |
| | |
| --- | --- |
| Expenses in INR |   |
| Interest on Loan @5% | 750,000 |
| Property tax@50 per sq. ft. | 333,333 |
| Building Insurance@30 sq. ft. | 192,000 |
| Liability Inmsurance@10 sq. ft. | 66,667 |
| Maintenance @2% | 400,000 |
| Total expenses | 1,742,000 |
| Net Profit | 1,058,000 |
| Return in % | 21 |
Pretty good return. Your numbers may vary, so plug them in and see what you come up with. If you can't gross at least 10% in your first year, you probably need to look for a better investment.
Loans and subsidies
Subsidies are provided by NABARD under the Gramin Bhandaran Yojana Scheme to the farmers on the submission of the project file from the different affiliate banks. The details of subsidies can be found here – Loans and subsidies for warehouse in India
Financial and Business expert having 30+ Years of vast experience in running successful businesses and managing finance.