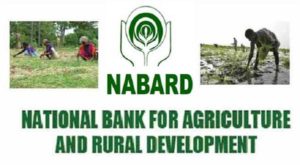 NABARD can be expanded as National Bank for Agriculture and Rural Development.  This was set up on 12 July 1982 on the recommendations of the B. Sivaraman committee with regards to the implementation of the National Bank for Agriculture and Rural Development Act 1981 and it has been the top Development Financial Institution in India.
The main functions of NABARD pertain to policy development, coordination, research, training, etc., relating to rural credit. It provides refinance lo cooperatives, regional rural banks, etc. Moreover, it makes loans and advances to state governments for a period not exceeding more than 20 years to enable (them to subscribe directly or indirectly to share the capital of cooperative credit societies.
The authorized paid-up capital is more than Rs.30, 000 cr. Government of India holds 100% of the share capital. NABARD has it's headquartered in Mumbai. It has been the key to providing rural services, innovative social services, and the provision of credit services in the rural parts of India.
Roles
NABARD supports the cottage industries –Most of the cottage and SMEs in India are situated in the rural part and it has played a crucial role in reorganizing the cottage industry such that rural areas of India have become a key contributor to the growth of India.
It brought collaboration between the rural and national economy by reaching out to various industries and sectors like fertilizer manufacturers, pesticide developers, and farm equipment producers and linking each other for collaborative growth. This led to a mutual benefit cycle that helped both the economy.
It serves as the apex body for providing a range of services that involves financing and provision of credit to the rural regions for carrying out a range of development activities.
 It is also a key body to support new agencies and institution come up specifically targeting Indian villages and their inhabitants. These agencies are specifically targeted to end scrutiny, rehabilitation unit creation, credit institution restructuring, training new hires, etc.
It also plays the role of an intermediary to various rural financing agencies that operate at the bottom-most level. It also acts as a bridge between RBI, Indian Government, state-level bodies.
It also takes part in developing other organizations that take part in the development of the rural economy.
It plays a crucial role in the development and support of the functioning of Co-operative banks in the process of regulation and also training their staff.
Function
It acts as the apex financing body for the provision of credits to agencies or firms which are focused upon promoting various development activities in rural areas.
It pays special attention to projects built under the Integrated Rural Development Program (IRDP).
It arranges to refinance for IRDP accounts in order to give the highest share of contribution towards the abolition of poverty.
It provides instructions for the promotion of group activities under its programs and provides 100% refinance support for them.
It helps to connect the Self-help Group (SHG) and the needy population of the rural areas.
It also monitors and controls the cooperative banks and RRBs to support rural financing and needy farmers
Conclusion
NABARD has been instrumental in shaping modern India through the development of rural areas. It has been shaping the problems faced by the rural population and also helped them in earning a livelihood and betterment of the rural economy. It has connected both the rural and national economy and collaborated both. It currently works with close to 4500 partner companies who are the leading innovators and major players in various rural projects.
Important Features
NABARD contact details-
Address – Plot C-24, G Block, Bandra Kurla complex, BKC Road, Bandra East, Mumbai, Maharashtra 400051
Web links- https://www.nabard.org/content.aspx?id=571
Financial and Business expert having 30+ Years of vast experience in running successful businesses and managing finance.