What is Legal & Allied Services?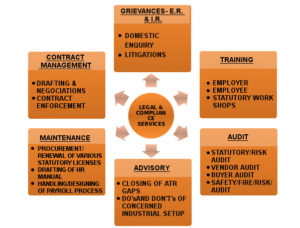 The Indian Legal & Allied Services consists of Lawyers, Solicitors, Chartered Accountants, Business Management Consultants, Taxation Advisers and Risk Management Consultants, who are professionals with a high level of commitment and integrity. They support their client for the services. 
All businesses must have contracts in place for every deal they enter into, both internally (with employees, for example) and externally (with vendors and business partners).
There are many service term you need to know for the business life as discussed below:
Legal Notice
A legal notice is a formal written communication between the parties. Through a legal notice, the sender notifies the recipient about his intention of undertaking legal proceedings against the latter. A legal notice also helps in making the receiving party aware of the grievances of the sender.
There are various types of notice, each of which has different results. In general, notice deals with Information that a party knows or should have known. In this context notice is an essential element of due process. Notice can also refer to commonly known facts that a court or Administrative Agency may take into evidence.
For the Sender- It is a way to simply have your grievances communicated and seek remedies for. For the Recipient- It is a formal way of getting information about sender grievances.
Will

A will is a legal document that communicates your wish after your death. It is a formal document that coordinates the distribution of your assets after death and can appoint guardians for minor children. With a will, the state in which you reside decides how to distribute your assets to your beneficiaries according to its laws.
An Executor or Personal Representative Needs to be Identified
Deciding Which Property to Include in Your Will
There are four types of Wills:
Type 1: Simple Wills
Type 2: Testamentary Trust Wills
Type 3: Joint Wills
Type 4: Living Wills
Power of Attorney

A power of attorney (POA) is a legal document giving one person (the agent or attorney-in-fact) the power to act for another person (the principal). The agent can have broad legal authority or limited authority to make legal decisions about the principal's property, finances or medical care.
A power of Attorney is an authority given by a written formal instrument whereby one person termed the donor or principal authorises another person termed the donee, attorney or agent to act on his behalf. The principal determines the amount of power given to the attorney, and this individual can be given the authority to deal with only one particular issue (a specific power of attorney), or to handle most of the principal's personal and financial matters (general power of attorney).
There are four types of POA
General Power of Attorney.
Durable Power of Attorney.
Special or Limited Power of Attorney.
Springing Durable Power of Attorney.
Term Sheet

The term sheet is the document that outlines the terms by which an investor (angel or venture capital investor) will make a financial investment in your company. The term sheet codifies the discussions and includes things the parties have agreed to informally, not legally. Subsequent to the term sheet, there will be a due diligence process and the parties will eventually negotiate, agree on, and sign the definitive agreements. Having a term sheet increases the transparency of the terms in agreements. It is a non-binding agreement drawing on the points on which parties mutually agree.

A shareholders' agreement is an arrangement among a company's shareholders that describes how the company should be operated and outlines shareholders' rights and obligations. The shareholders' agreement is intended to make sure that shareholders are treated fairly and that their rights are protected.
Shareholder Agreements offers a mechanism to the founding members of a company to regulate (and sometimes restrict) the shares allotted to the stakeholders. The shareholders' agreement is intended to make sure that shareholders are treated fairly and that their rights are protected.
The agreement will:
• Define the shareholders' rights and obligations;
• Regulate dealing with shares
• Provide an element of protection for minority shareholders and the company; and.
• Deals with valuation of shares.

A share purchase agreement is defined as a legal contract between a seller and a buyer. They may be referred to as the vendor and purchaser in the contract. The specific number of shares are listed in the contract at the stated price. This agreement proves that the sale and the terms of it were agreed upon mutually.
A warranty is a contractual statement of assurance given by the seller to the buyer that a certain state of affairs exists. They are particularly important in share purchase agreements, as they allocate risk and liability between the seller and buyer.
A Share Purchase Agreement is a sales agreement to be used to transfer and assign ownership (shares of stock) in a company. It is an agreement setting out the terms and conditions relating to the sale and purchase of shares in a company. It is a binding agreement between sellers of shares and purchaser of shares. Such an agreement essentially outlines the market price of shares, premium amount if any, duty and responsibility of parties towards the company, manner in which the shares can be used and sold and provisions with respect to powers of the Board.
Hiring Contract & Agreement

A hiring/ employment contract is a written legal document that lays out binding terms and conditions of an employment relationship between an employee and an employer. Employment relationships do not always work out despite arduous selection processes and the positive wishes of both parties in the employment relationship. Too many factors in the workplace, the marketplace are responsible for it. At such time Employment Contract comes into role. The terms and condition set out in the contact help in settling dispute. It contains details such as:
• Provisions relating to remuneration
• Provisions relating to health benefits
• Provisions relating Vacation and sick leave
• Provisions relating Employee grievance procedures
• Provisions relating Employee behavior
• Other provisions governing employability.
Service Contract

It is an arrangement between service provider and user to perform certain service in lieu of consideration. It set out the terms and conditions describing the framework within which service will be provided by the service provider to the user. They're used predominantly by contractors, freelancers, and consultants and, generally involve one party paying another party to perform a certain act. A clear and comprehensive description of the work to be done is critical to a service contract. Describe the time span within which service will be provided and state every Dos' and Don'ts so that no discrepancy is left out.
Memorandum of Understanding

Memorandum of understanding is formal arrangement between parties to the agreement drawing out the mutually agreed terms and conditions. It is actually just a means for two parties to reach a decision. It is used to gauge the intention of the transacting parties before a deal is officially signed between them and doesn't grant either of them any rights. A Memorandum of Understanding or MOU is put in place to establish a clear understanding of how the deal will practically function and each party's role and compensation. MOU is a formal contract but it doesn't carry any legal right. Each deal is vastly different; there is no particular convention of writing MOU. Drafting of MOU totally depends upon the parties and nature of deal between them.
Franchise Agreement

An entrepreneur looking to start his own business may consider purchasing a franchise. Franchise Agreement is a legally binding agreement which outlines the franchiser's terms and conditions for the franchisee. It lays down the obligations of both franchiser's and franchisee. It explains what each party of the franchise expects from the other party about operating the franchise. The franchise agreement is the license to operate the franchise. The license concerns the ongoing franchise operation. Included are any rights you gain with your purchase. Your rights may include the use of trademarks, copyrights, territorial exclusivity, recipes or secret formulas etc.
Joint Venture Agreement

A joint venture is created when two or more established businesses agree to pool their resources and respective talents to achieve a particular goal. It is an agreement for a defined time span for particular business venture. Businesses often decide to enter into a joint venture because they believe that combining resources with another business will lead to better growth and profitability than either business could achieve operating on its own. All joint ventures are initiated by the parties' entering a contract or an agreement that specifies their mutual responsibilities and goals. A joint venture agreement provides a company with expertise it may not have or may not be willing to invest in acquiring itself. It is crucial to draft proper agreement in order to avoid any trouble in the later stages of venture.
Non-Disclosure Agreement

One common way to protect the secrecy of confidential information given to another party is through the use of a Non-Disclosure Agreement. NDAs are typically signed at the beginning of a business relationship. It is a legally binding contract where one party to the contract agrees to maintain the secrecy of the information given by another party and promises not to disclose the information given to the outsider. Non-Disclosure Agreement explicitly spells out that the person receiving the information is to keep it secret and limit its use. Non-Disclosure Agreement is an almost surefire way to confirm that confidential information stays protected in a variety of situations.
Sale Deed/Agreement To sell

It means absolute transfer of tangible immovable property by the vendor to the purchaser by entering into a contract for sale wherein both the parties will settle the terms and conditions of transfer. Such transfer can be done through the registered document. Sale deed would require the seller to certify that the property under the sale is free from any encumbrance and without any lien.
Agreement to Sale is not the actual sale but a contractual agreement to sell a property on particular terms and for a particular price. It is the document on which the Deed of Sale is based on.
Rs. 100/-non-Judicial stamp paper is sufficient for an agreement. 1) Sale deed has to be compulsorily registered without which it is invalid. 2) For registration of sale deed the stamp duty(including transfer fee) is 5.5% and registration charges is 0.5% of Fair market value of property.
Lease Deed/Rent Agreement

A lease deed of immovable property is a transfer of a right to enjoy such property, made for a certain time, express or implied, or in perpetuity, in consideration of a price paid or promised, or of money, to be rendered periodically or on specified occasions to the transferor by the transferee, who accepts the transfer on such terms. The person who is transferring such right of property is known as Lessor. The person to whom such right of party is transferred is known as Lessee.
Rent agreement is a legal document which is prepared by the landlord in the name of the tenant. All the terms and conditions are mentioned in the agreement according to both the parties. Before shifting to any new place, the tenant should always ask for an agreement with the landlord so that there is no problem in the future.
The difference between lease and rent is that a lease generally lasts for 12 months while a rental agreement generally lasts for 30 days. Some landlords offer six-month, 18-month or 24-month leases, but a year's lease is standard.
Hire Purchase Agreement

Hire purchase is an agreement whereby a person hires goods for a period of time by paying installments, and can own the goods at the end of the agreement if all installments are paid. To begin a hire purchase, a payment is often required up front. The rest of the amount due is submitted through scheduled payments. The ownership of the good purchased through a hire purchase is not officially transferred to the buyer until all required payments have been submitted.
Gift Deed

A gift deed is a document that records the act of giving a gift and is executed between the donor (the person giving the gift) and the donee (person receiving the gift). Though it is not compulsory to execute a gift deed while gifting any asset, it does create a valid documentary record.
Gifts that involve immovable property should be registered under the Transfer of Property Act. Unless registration of the gift deed is completed, the title does not pass on to the donee, in case of gift of immovable property. Stamp duty shall be payable based on the value of the gift
A gift deed is a deed in which the consideration is not monetary, but is made in return for love and affection. It is a document which transfers property to another as a gift. Such a deed is often used to present someone with a gift. Transfer of a gift deed can be reported as a gift for federal tax purposes.
Financial and Business expert having 30+ Years of vast experience in running successful businesses and managing finance.