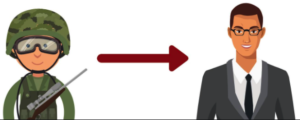 Military men spends tough life in the services because of remote/ hard area posting, away from home/ Family and so on the reasons. Having spent a compulsory pensionable time of 15 plus year of service when a young soldier come out from the first inning of campus life he needs earning for his rest of the life till his retirement as per the government policy of 58-60 years of age.
Therefore, after retirement from Defence services when a soldier come out known as Ex-serviceman. In view of the expanding population of ex-servicemen (ESM) and widows, in 1986, a decision was taken to create an independent resettlement division in the Department of Defence. The Department consists of two Divisions i.e. (i) Pension Division; and (ii) Resettlement Division. The office of Directorate General of Resettlement implements various Policies / Schemes / Programmes for pre and post retirement training, re-employment and self- employment of ex-servicemen. The DGR is assisted in its task by 5 Directorate Resettlement Zones (DRZs) co-located with the Army Command Headquarters at Udhampur, Chandimandir, Lucknow, Kolkata and Pune.
Apart from this, one of the most common way today's ex-servicemen can uncover employment opportunities is through online portals. There are hundreds of job boards out working exclusively for veterans, as well as apps, aggregators, social media channels, networking groups and staffing company websites to choose from. So where are the best places to go to find your next great job? We've done the research to help you determine from where you can look for best opportunities. And with an abundance of sites that are dedicated to specific industries, we've broken them down by those that are more general and the specialised services.
Before moving to the specification, we should be aware of the job roles which are suitable for a defence background person. Most of the managerial positions in the corporate sector seems to be tailor-made for ex-servicemen. The best Jobs role for Ex-servicemen as per their qualification and experience are as below:
Facility/Admin/HR Manager
Vendor Manager
Security Manager/officers/supervisors
Procurement Manager
Technical Engineer
Business Operation Manager
Civil Engineer
Infrastructure Manager
Legal Consultant
Residential medical doctors
Lecturer/Teacher
Clerical jobs
Factory Manager
Part-time jobs
Office Manager
Hostel warden
Liaison Manager
Estate Manager
Hotel Manager
Canteen Manager
Sarkari Naukri-
UPSC/State PSC/SSC/Banks
Now, lets start the search unfolding of dedicated resources which can help you to land into your dream job:
Government Initiatives
Directorate General Resettlement (DGR):

The Directorate General Resettlement (DGR) is an Inter Service organisation functioning directly under the Department of Ex-Servicemen Welfare (Ministry of Defence).

Resettlement of ESM is sought to be achieved through the following:-
Upgrading their skills by imparting necessary training to prepare them to take on new assignments/jobs and assisting ESM in finding re-employment.
Constant endeavour to provide employment opportunities in Government/Quasi Government/Public Sector Organizations.
Pro-active action to facilitate re-employment of ESM in the Corporate Sector.
An option to undergo resettlement courses in reputed institutes pan India is provided to Officers, JCOs/OR and retired personnel's through the office of Directorate General Resettlement (DGR) to enhance their educational qualifications and increase employment options post retirement. An exemption of 100% of the course fees is given to JCOs/ORs and 60% to officers. The exempted amount against the course fees is paid by the office of DGR.
Visit – DGR
Visit – Job Assistance by DGR
Visit- Training Programs by DGR
Visit- Job Faire Schedule
Indian Air Force Placement Cell (IAFPC)

IAF Placement Cell was established at Air Force Record Office, New Delhi in the month of Jun 2007. Subsequently, on formation of Dte Air Veterans in Sep 2012, IAF Placement Cell was brought under the admin and functional control of DAV at Air HQ (SP). An IAFPC website (www.iafpc.co.in) has been launched in Jul 2008.
The motto of IAF Placement Cell is to offer maximum job opportunities to future retirees and air veterans as a second career. The cell assists retired and shortly retiring officers as well as warrant ranks and below to search suitable jobs in the corporate world. The placement cell maintains data of retired / shortly retiring officers and warrant ranks & below as well as of Private / Public Sector companies and sponsors suitable candidates.
Visit – Indian Air Force Placement cell
Visit – Job Openings
Visit- Registration on IAF PC
Army Welfare Placement Organisation (AWPO)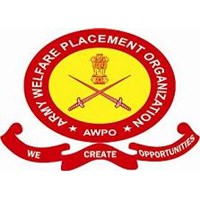 AWPO, a welfare and non profitable organisation providing jobs to Veterans, Veer Naries and their wards since 1999. More than 1.5 lakhs personnel are registered and 35-40% placement achieved. It has all India reach with 18 x Regional Offices and 48 x Army Welfare Placement Satellite Nodes (AWPSNs). AWPO has exclusive web portal exarmynaukri.com for online activities and to meet prospective employers manpower requirement with a updated and dynamic database.
Visit – Indian Army Welfare Placement Organisation
Visit – Job Openings
Visit- Registration
The Indian Navy established the Indian Naval Placement Agency (INPA) on 18 Feb 2006 under the aegis of Directorate of Ex-Servicemen Affairs at Naval Headquarters. Subsequently, Command Placement Cells were established at Mumbai, Kochi, and Vishakhapatnam under the respective Command Headquarters.
The primary aim of INPA is to enhance second career opportunities for retiring / retired naval personnel in the corporate / private sector. While retiring/ retired personnel are required to pay a nominal fee for registration, the INPA and Placement Cells render free services to the veer naris (i.e., widows of naval personnel). In pursuit of this aim, INPA and the Placement Cells undertaken the following activities:-
Facilitate recruitment of retired / retiring naval personnel through operation of the placement portal at https://indiannavy.nic.in/inpa/
Conduct of Job Fairs in collaboration with Directorate General Resettlement (DGR) and other Services
Enhance placement of retiring / retired naval personnel through engagement with professional HR agencies, corporate houses, and business forums
Facilitate awareness among the retired / retiring naval personnel of the skill requirements of the industry and guidance on preparation for re-employment in corporate / private sector
Facilitate recruitment of retired / retiring naval personnel in govt / semi government organisations
Progress initiatives to upgrade / certify skill sets of retired / retiring naval personnel
Visit – Indian Navy Placement Agency
Visit- Registration
Consultancy
MilitaryToCorporate Consultancy (M2C):
M2C is the team of military officers and management consultants who understand both the turfs – the veterans and the corporates. They work on the philosophy to help veterans from the military and para-military forces connect with corporate in getting fulfilling and enriching second career opportunities post retirement from active service. Also corporate get the best of veteran talent pool, the talent that will add to the workforce diversity and bring in very distinct behavioral DNA along with decades of domain and functional experience. It's mission is to become the preferred go-to veteran hiring partner for corporate across industries and functions in India and help veterans in transitioning seamlessly to the corporate sector for enriching second career opportunities.
Visit – Military2Corporate
Face difficulty in online process?
Not to worry! They have CareerCall feature. CareerCall (CC) is the feature to reach out to more veterans across ranks, divisions, sub-divisions of military, paramilitary and police forces. The 'CC' feature will be particularly useful for veterans, who face difficulty in doing self-registration.
How to use career call – Just call on 0-888-220-1111
Online Job Boards
Google for Veterans Jobs
Google for Jobs aggregates job listings from sites across the web, including several of the ones listed in this post. Use it just like you use Google, and from their same main search page. Search for key phrases like "jobs for veteran" to get a list of available positions. Results also show company ratings and salary info for the position, if available. If something catches your eye, click a button that reads, for example, "Apply on LinkedIn" to go directly to the source of the job listing and apply. One key benefit of Google for Jobs is that it eliminates redundant results and displays only one listing for each open position.
SimplyHired Veterans Jobs
SimplyHired is a job search site that collects listings from all over the web, including company career pages, job boards and niche job websites. The company reports that it lists job openings from 700,000 unique employers and operates job search engines in 24 countries and 12 languages. Employers might want to note that the site sends your job posting to over 100 job boards for increased visibility. Click here to visit and apply the Jobs for Ex-servicemen.
Glassdoor military Jobs
Glassdoor not only lets you search for jobs, it also allows people to review companies they've worked for and share salary and benefits info, giving insight that job seekers wouldn't otherwise know. Professionals who have interviewed with a company can also give details on the business's recruiting processes. While all this information should be taken with a grain of salt, it can be quite revealing. On the hiring side, Glassdoor allows employers to identify job candidates and market their companies to job seekers.
LinkedIn 

Veteran Jobs Opportunities
This top networking site allows you to find jobs not only through direct employer listings, but also through communication with your extended network. Your profile serves as your resume, and you can easily find and share career-related content, dive deep into thought leadership posts from prominent people in your field and solicit or supply recommendations. Additionally, industry groups allow you to participate in professional discussions and follow companies you find interesting — and relevant to your job search. you can go on their site by clicking here
Naukri.com Veteran recruitment jobs
Naukri.com is an Indian job portal operating in India and Middle East founded in March 1997. Naukri.com was founded by Indian businessman Sanjeev Bikhchandani, who started Info Edge Ltd. in 1995. Naukri.com is the best job portal in India which has specific site for veterans. you can directly click here to visit and apply the Jobs for Ex-servicemen.
Individual company websites
Most businesses have a Jobs or Careers section on their site. Identify the top companies in your field — or any that you're interested in working for — and see what opportunities they have available. Some companies may not post all their open positions on job boards, so visiting their website could be the only way to find out about opportunities at these firms. Check back regularly, though some may even have the option to set up job alerts for the types of positions that appeal to you most.
Job hunting sites that focus on a specific industry or occupation can be a helpful tool to narrow down your search. Here are a few specialized sites to consider:
Hired — Recruiters reach out to tech professionals based on their profiles on this site. Even better for job seekers: Salary info is disclosed upfront.
Idealist — People interested in nonprofits and charitable work will find value in job listings and volunteering opportunities here.
Lawjobs — One of the top job search sites for legal professionals, Law jobs offers listings for attorneys, paralegals and legal secretaries.
AngelList — For those looking to work with startups, AngelList is the go-to job search site. You can build a profile, add connections and get regular updates when positions matching your criteria are posted.
Behance — Designers and web professionals can find job opportunities on Behance, in addition to getting help with online portfolios.
Fairygodboss — This site is all about women, from job searches to empowerment in the workplace and creating a supportive community.
We Work Remotely — Digital nomads can find a job that lets them work anywhere on this site.
Reservation for ESM in Central Government posts
1) Central Government Ministries/Departments:
10% Direct recruitment posts upto the level of Asst Comdt. in CAPF.
10% Direct recruitment posts in Group 'C'.
+20% Direct recruitment posts in Group 'D'.
Including 4.5% for Disabled ESM and dependents of those killed in action.
2) Central Public Sector Enterprises
14.5% in Group 'C' Posts
24.5% in Group 'D' Posts
Including 4.5% for Disabled ESM and dependents of those killed in action.
3) Nationalized Bank
14.5% in Group 'C' Posts
24.5% in Group 'D' Posts
More advice for using job search sites
To improve your chances when you're looking for a new job, make sure your resume is polished and professional. Your resume and your profiles on career websites are marketing collateral for a very important enterprise: your career.
You'd be smart to register and set up alerts with more than one site, since each offers a slightly different experience and list of benefits. A specialised staffing firm like Robert Half may be valuable as your first stop, as we have not only matching software and AI but also real people — our highly experienced recruiters — working on your behalf while you get set up on other sites.
And don't neglect other methods for finding jobs, such as in-person networking events, reaching out to former coworkers, job fairs and more. Good luck!
Please share your views on the platforms we listed above in the comments and also share any specific platform which we missed and can be helpful to share.
Financial and Business expert having 30+ Years of vast experience in running successful businesses and managing finance.